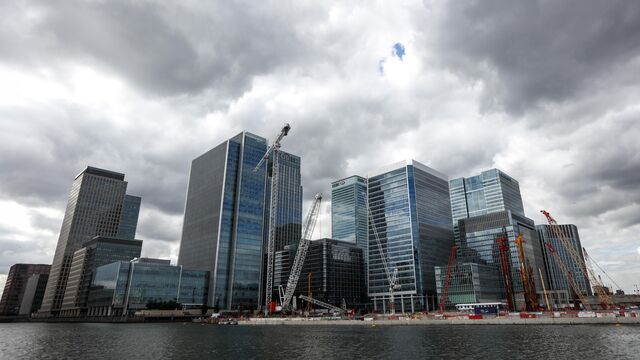 London has flourished as a financial center for decades in part because global banks, from offices around the bustling City of London district, could sell their services freely around the European Union's 28-nation trading bloc. Now that British voters have decided to leave the EU — the complicated international divorce known as Brexit — the city's status as a banking hub is under threat. If U.K. firms lose easy access to Europe's $19 trillion economy, which seems likely under the terms laid out by Prime Minister Theresa May, Britain becomes a far less attractive place to do business.
1. How big a loss is this for London?

London could lose 10,000 jobs in banking and 20,000 roles in the larger field of financial services, according to Bruegel, a Brussels-based think tank. Other estimates range wildly from as many as 232,000 jobs to as few as 4,000, so view them with some skepticism. Executives at banks including Morgan Stanley, Citigroup Inc., Deutsche Bank AG and JPMorgan Chase & Co. have said they are considering moving staff and operations out of Britain to service their EU clients. The top five U.S. investment banks keep about 90 percent of their EU-based employees in London.

2. Which businesses might be on the move?
No one really knows, but potentially any front-office or back-office operation with customers in the EU could have to pack up. One likely target is euro clearing, a service to help traders complete transactions safely and at the executed price. The EU is seeking to retake control of a function traditionally handled by London-based clearinghouses: settling derivatives trades denominated in Europe's common currency, the euro.
3. So when might this start?
To some degree it already has. Global banks have begun the process of moving some U.K.-based operations to new or expanded trading hubs inside the EU, and at least a few non-British traders are returning home. Others, tired of wondering whether their jobs will be moved or cut, are volunteering to move to their native EU countries should their employers need to relocate staff. European and U.K. regulators are pushing financial firms to waste no time in making contingency plans for leaving London before Brexit actually happens. The U.K.'s on course to leave the EU by March 2019.
4. Is there another way?
Not really. Though May has said she wants a "bold and ambitious free-trade agreement" with the EU — one that would safeguard the rights of banks to provide services across the continent — EU regulators have indicated that they won't tolerate fly-in, fly-out arrangements with bankers commuting from London.
5. What are the banks hoping for?
For one thing, they want a managed transition to a new trading relationship, not a sudden change that May has compared with falling off a "cliff edge." There are different ideas on how to achieve that. The financial industry has pushed for a "standstill" arrangement that would preserve existing rules for maybe four or five years until new regulations take effect. May talks about a gradual phase-in.
6. What sort of new system do they want?
Bank executives long ago gave up hope of preserving so-called passporting rights, which allow global banks with bases in London to provide services to the rest of the EU. Instead, they have focused on securing a version of regulatory "equivalence," or a formal recognition by the EU that the U.K.'s rules and oversight of specific businesses are as tough as its own. That would pave the way for a continuation or resumption of cross-border business, on a case-by-case basis.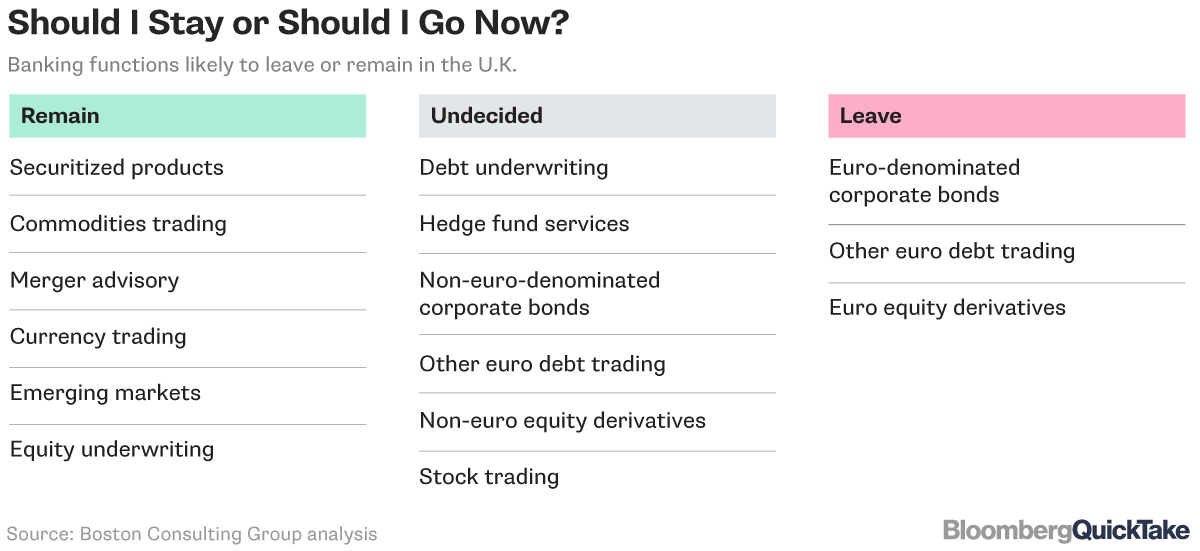 7. Where will London's bankers go?
Frankfurt and Dublin are emerging as leading alternatives. Goldman Sachs Group Inc., Citigroup and Morgan Stanley are eyeing Frankfurt. Barclays Plc is considering Dublin, Ireland's capital. JPMorgan plans to build out Frankfurt, Dublin and Luxembourg. But no other European location quite matches London's depth of markets, breadth of expertise or regulatory appeal. While banks will move some operations to the continent to ensure access to market activity in European time zones, they could ultimately move even more across the Atlantic Ocean to New York, which could be the only genuine one-stop shop for finance after Brexit.
8. So how many people are we talking about?
Even if the high estimates are correct, the number of bankers on the move would only account for about 10 percent of the 2.2 million people that lobby group TheCityUK says work in finance and related professions in the U.K.
The Reference Shelf
Before it's here, it's on the Bloomberg Terminal.
LEARN MORE