Editorial Board
Tillerson Faces a Tall Order in Africa
He's delivering a good message -- but why should anybody believe him?
by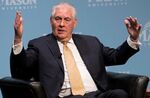 Before leaving on a five-nation trip to Africa, Secretary of State Rex Tillerson said many of the right things about the necessity of a strong partnership between the U.S. and the region. Problem is, his hosts aren't the only ones who need some persuading.
Since taking office, President Donald Trump has derided the continent with barnyard insults, moved to end a diversity visa lottery that especially benefits Africans, tried to slash the U.S. aid budget, skipped a special G-20 session on Africa, and left top Africa policy and diplomatic posts unfilled.
True, the U.S. remains the most generous provider of humanitarian assistance to Africa -- and Tillerson announced more than $500 million in additional aid for crisis-torn countries. The U.S. is also the biggest supporter of peacekeeping forces, and its stepped-up military presence and security assistance have blunted the threat posed by violent extremist groups, insurgencies and transnational gangs.
Yet as Tillerson said, guns and alms "only buy us time." They won't address "extremes in poverty, limited infrastructure, predatory governance, inadequate health care" -- to cite some challenges ticked off by the head of the U.S. Africa Command -- much less tap what Tillerson called the continent's "expansive opportunities for economic growth and influence."
That will require efforts to promote good governance, encourage investment and trade, and support health and education. Tillerson highlighted the contributions of Power Africa, a USAID public-private initiative that is bringing electricity to millions; PEPFAR, which has reduced deaths and illnesses caused by HIV/AIDS; and the Young African Leaders Initiative, which has given African entrepreneurs and civic leaders the chance to study and train in the U.S. He didn't mention that the administration's proposed 37 percent cut in Africa programs would hurt all three.
The State Department under Tillerson has repeatedly downgraded the promotion of democracy and human rights. Of Tillerson's five stops, Chad, Djibouti and Ethiopia are judged "not free" by Freedom House, and Nigeria and Kenya only "partly free". Across the region, political unrest holds back economic growth.
If the administration wants to reduce instability and poverty in Africa, it should also rethink its refusal to fund efforts to mitigate climate change, which hits Africa's mostly rain-irrigated agriculture particularly hard.
As he did in Latin America, Tillerson warns Africa about the dangers of too much Chinese aid and investment, which he blamed for "opaque contracts, predatory loan practices, and corrupt deals that mire nations in debt and undercut their sovereignty." The message might carry more conviction if the U.S. share in sub-Saharan Africa's trade and investment weren't falling relative to China's. Last year, U.S. exports to Africa were lower than they had been since 2006.
The administration could do something about that, if it cared to -- for instance, by pushing hard for Tillerson's plan to streamline U.S. development finance efforts, or by breaking the deadlock in Washington over the U.S. Export-Import Bank, which is blocking U.S. exports.
The right message is well and good, but doesn't mean much without actions to back it up.
--Editors: James Gibney, Clive Crook.
To contact the senior editor responsible for Bloomberg View's editorials: David Shipley at davidshipley@bloomberg.net .
Before it's here, it's on the Bloomberg Terminal.
LEARN MORE