politics
Tillerson Offers $533 Million in Food Aid for African Famine
By
Top U.S. diplomat calls for more burden-sharing for crises

China uses 'predatory' lending on continent, Tillerson says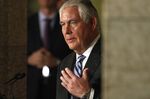 Secretary of State Rex Tillerson announced $533 million in new aid to fight famine in East Africa and the Lake Chad region, in a move aimed at underscoring the U.S. commitment as he embarks on a five-nation trip to the continent.
The funds will provide emergency food and nutrition assistance to people in Ethiopia, Somalia, South Sudan and countries around Lake Chad, Tillerson said Tuesday. Also included are medical supplies, better sanitation and emergency shelter, the State Department added in a statement.
"The alarming levels of hunger in these areas are largely man-made, as conflicts erupt and people flee their homes," Tillerson said in a speech at George Mason University outside of Washington hours before he departs for his first stop, Ethiopia. He'll later travel to Djibouti, Kenya, Chad and Nigeria.
The trip will be Tillerson's first to Africa as secretary of state, and the focus will largely be on U.S. security ties as the Trump administration partners with African nations to combat an Islamic State offshoot in the Sahel region as well as Al Shabab militants in Somalia. He is notably skipping South Africa, which has seen political turmoil recently with President Jacob Zuma's forced resignation.
Looming in the background will be African leaders' question about the U.S. commitment toward the continent, particularly after President Donald Trump allegedly referred to African nations as "shithole" countries during a meeting in January.
Read more: Tillerson Preaches Respect as Diplomats Cope With Trump Remarks
Tillerson didn't refer to Trumps remarks at George Mason, instead pledging the U.S.'s commitment to African nations and saying that the Trump administration wants stronger partnerships on the continent "with an aim of making African countries more resilient and more self-sufficient."
He also echoed several of the themes he has outlined in previous speeches ahead of foreign trips, including the need for other countries to share more of the aid burden and calling out China for what the U.S. sees as unfair lending practices and business deals.
For more than a decade, the U.S. has cautioned African countries against entering into deals with China, which has steadily increased its influence by offering infrastructure loans and investing in energy production and natural resources extraction.
China Criticism
In his speech, Tillerson said China's approach uses "opaque contracts, predatory loan practices, and corrupt deals that mire nations in debt and undercut their sovereignty, denying them their long-term, self-sustaining growth."
He injected a degree of urgency into the speech, noting that Africa's population is projected to double to more than 2.5 billion by 2050, with 70 percent of people under 30 years old.
"This growing population of young people, if left without jobs and a hope for the future, will create new ways for terrorists to exploit the next generation, subverting stability and derailing democratic governments," Tillerson said.
Before it's here, it's on the Bloomberg Terminal.
LEARN MORE