Tillerson Preaches Respect as Diplomats Cope With Trump Remarks
By
He makes no reference to uproar over Trump's reported comments

U.S. ambassadors in Haiti, Botswana summoned for protests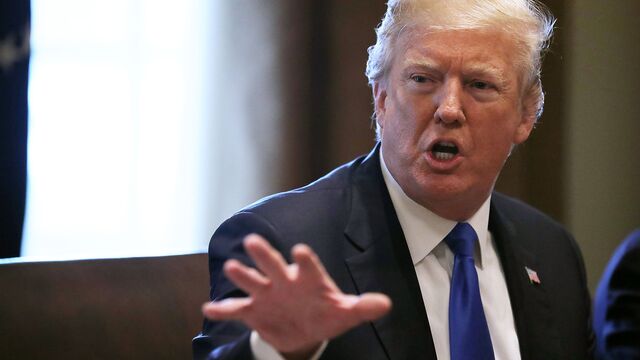 Secretary of State Rex Tillerson preached "the value of respect" to the State Department's 75,000 employees Friday, even as his diplomats coped with global criticism of reports that President Donald Trump had described some African and other nations as "shithole countries."
Tillerson made no mention of the comments, which Trump denied, as he called for creating a "deep well of trust and respect among our own State Department family." But Steve Goldstein, the undersecretary for public diplomacy, said U.S. ambassadors to Haiti and Botswana had been summoned for formal protests over Trump's remarks.
While Trump tweeted Friday morning that he didn't use the vulgar expression attributed to him during a meeting on immigration legislation, Senator Dick Durbin of Illinois, who attended Thursday's talks, told reporters the president made the "vile and racist" comments.
Haiti's Ambassador
Paul Altidor, Haiti's ambassador to the U.S., said Friday on MSNBC that the president's reported comment that no more Haitians should be allowed into the U.S. was surprising and "regrettable," because Haitians are "great contributors" to the U.S. and that he hoped Trump would apologize.

Altidor said no one from the White House or State Department had contacted him. In a tweet Friday, Trump said he "'never said anything derogatory about Haitians other than Haiti is obviously, a very poor and troubled country."
Word that John Feeley, the U.S. ambassador to Panama, had quit created a social media stir on Friday on the assumption it was tied to Trump's latest remarks. In fact, his resignation was made in a letter to Trump dated Dec. 27; State was informed on Jan. 10.
In the letter, Feeley said he had decided to resign because he could no longer serve "the president and his administration in an apolitical fashion, even when I might not agree with certain policies."
Sexual Harassment
Tillerson's remarks, scheduled before the uproar, focused on another timely topic, as he ordered the State Department's global staff to to undergo sexual harassment training by June.
"Where people are disrespected and their freedoms denied, we always find incidents of harassment," Tillerson said in the speech at the State Department's Dean Acheson Auditorium. "No form of harassment is more demeaning than sexual harassment."
Tillerson also promised that no one at the agency who files reports incidents of harassment will face retaliation.
While the top U.S. diplomat steered clear of Trump's reported comments, it wasn't the first time he'd delivered a speech with a strikingly different tone from the president's.
In August, amid an uproar over Trump's comments that there was "blame on both sides" for violence after a neo-Nazi protest in Charlottesville, Virginia, Tillerson delivered an address pledging more diversity in State Department hiring and denouncing racism and hate speech as "antithetical to the American idea."
— With assistance by Nafeesa Syeed
Before it's here, it's on the Bloomberg Terminal.
LEARN MORE