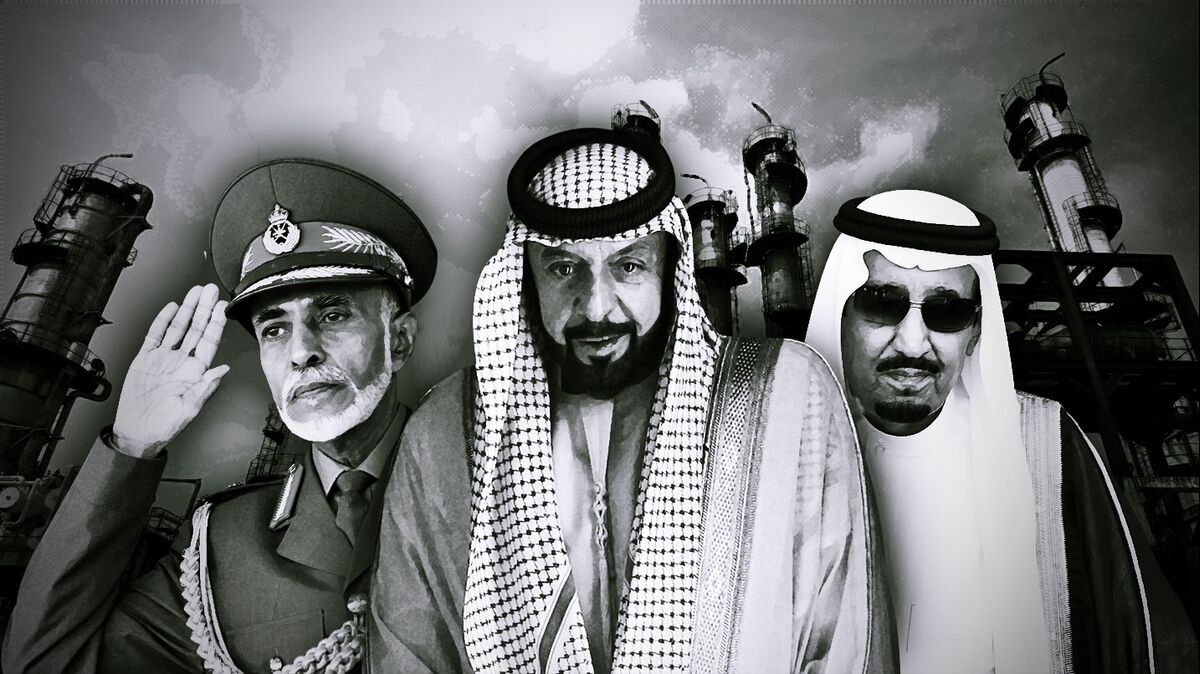 The Last Kings
Succession in the Persian Gulf
By
|
Updated March 30, 2016 12:21 PM UTC
The world has only a handful of old-fashioned kings, the kind whose subjects must follow their every command. Europe's monarchs gave way to constitutions and elected governments long ago, as did those in Japan and Thailand. Almost all of the remaining absolute monarchs are in the oil-rich countries ringing the Persian Gulf, one of the globe's most turbulent neighborhoods. That's focused attention on who will succeed the region's elderly and increasingly frail sovereigns. Succession could pose a risk to the stability of these countries and their alliances, such as those battling insurgent Islamist groups. As the Arab world grapples with new threats and calls to modernize, the Gulf monarchies remain bound by opaque and centuries-old traditions for passing on power.
The Situation
Saudi Arabia is setting up a new generation of princes to take the throne after 90-year-old King Abdullah died in January 2015 and was succeeded by his half-brother Salman, age 80. The crown has passed from brother to brother since founder Abdulaziz Al Saud died in 1953 and handed the throne to his eldest son. The youngest surviving son, 70-year-old Prince Muqrin, stepped aside in April 2015 in favor of his nephew Prince Mohammed bin Nayef, who became the crown prince and would be the first grandson to rule. The king also elevated his son Prince Mohammed Bin Salman to be deputy crown prince, ensuring his own line will succeed to the throne. The United Arab Emirates and Oman also have concerns about ailing monarchs and succession. In the U.A.E., 68-year-old President Sheikh Khalifa Bin Zayed Al Nahyan suffered a stroke in January 2014. Since he rules Abu Dhabi, the richest of the seven emirates that make up the country, many political analysts expect that the six other leaders would anoint his crown prince to succeed him in the top job. Oman's 75-year-old Sultan Qaboos bin Said traveled to Germany for health checks in July 2014 and returned six months later. There is no declared heir to the throne in Muscat as Qaboos isn't married and has no children or brothers.
The Background
Succession in Arab monarchies is often not a matter of simple primogeniture, and daughters aren't even in the picture. The selection is sometimes brokered by sections of an extended ruling family behind closed doors, with pledges of allegiance from tribes and religious figures. Abdulaziz formed Saudi Arabia by marrying women from many influential clans to secure loyalty, and he's thought to have sired more than 40 sons. Oman and Saudi Arabia have tried to institutionalize the process by appointing a council of family members to advise on succession. While recent transfers have gone smoothly, there have been bouts of palace intrigue through history. Oman's Qaboos overthrew his father in a coup in 1970, sending him to live in exile in a suite at the Dorchester Hotel in London, where he died two years later. In Qatar, the heir apparent deposed his cousin in 1972, and was then overthrown by his own son in 1995. Saudi Arabia's King Faisal was assassinated by his nephew in 1975. Other absolute monarchies around the world include Bahrain, Brunei and Swaziland.
The Argument
Royal families can be a source of stability, a critical concern in the Middle East, which holds about half of the world's oil reserves. Political vacuums can be dangerous. Arab monarchs are working together to fight the rise of Islamic State fueled by Syria's civil war, with Saudi Arabia and the U.A.E joining in a coalition with the U.S. Oman is strategically placed next to some of the world's most important energy corridors and has close ties with Shiite power Iran. When the 2011 Arab Spring uprisings began to topple Middle East dictators, demands for change triggered protests in Bahrain and, to a lesser extent, in Oman. The challenges highlighted weaknesses in the hereditary system and the way the monarchs spread oil wealth to help ward off threats to their rule. The leaders recognize the need to modernize and some have introduced elected assemblies with limited powers. Even so, concerns about the region's security have helped keep the traditional monarchs in place.
The Reference Shelf
(

An earlier version of this QuickTake had an incorrect photo of Prince Mohammed Bin Salman.

)
First published Dec. 26, 2014
To contact the writer of this QuickTake:
Dana El Baltaji in Dubai at delbaltaji@bloomberg.net
To contact the editor responsible for this QuickTake:
Leah Harrison at lharrison@bloomberg.net