business
Deutsche Bank U.S. Cuts, New York Shift Cap CEO's First Month
By and
Lender said to consider cuts affecting 20% of U.S. employees

Bank also moving New York office and plans to shut in Houston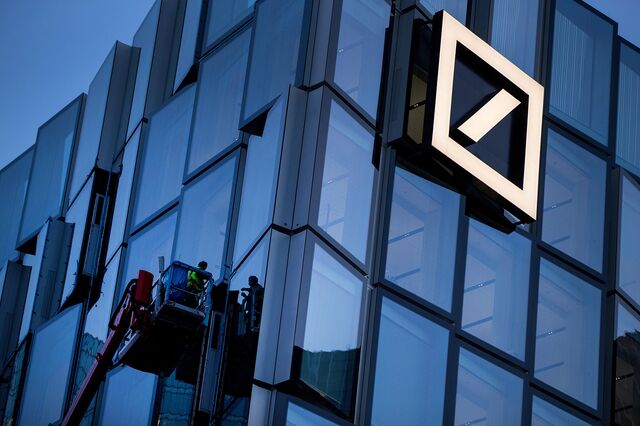 Christian Sewing's restructuring plans at Deutsche Bank AG are slowly taking shape.
The bank is considering a sweeping restructuring of its U.S. business that could result in the firm cutting about 20 percent of its staff in the region, according to people familiar with the matter. That's double previous estimates, adding to evidence of further big change underway. The bank last week said it would close its Houston office, home to more than 50 jobs, and that will relocate away from Wall Street to a Midtown location that's 30 percent smaller.

Sewing -- who replaced John Cryan in April -- is under pressure to provide details of the investment bank restructuring by the annual shareholder meeting on May 24, after outlining broad strokes of the plan two weeks ago. S&P Global Ratings has put the lender's long-term rating under review pending those details, citing concerns that the overhaul could be prolonged and costly.
"Christian Sewing has had a good first month," said Andreas Plaesier, an analyst with M.M. Warburg with a hold recommendation on the stock. "He's showing he's keen to quickly deliver on his promise to execute. But it would be good to see more clarity on the planned investment bank changes within the next two months."
Bloomberg reported in April a plan to slash more than 10 percent of jobs in the U.S. -- where its workforce was 10,300 at the end of 2017 -- as the German lender retreats from businesses it deems less competitive. The latest indication that 20 percent could go hints at more dramatic action. A bank spokesman, however, said Tuesday there are "no such plans."
Widespread Cuts
Sewing gave few details away when promising widespread cuts to the investment bank on the bank's first-quarter earnings call last month. That may be one of the reasons the bank's share price is little changed from the time of his appointment. The stock traded up 0.5 percent to 11.51 euros as of 3:26 p.m. in Frankfurt.
"It's far, far too early to make a call" on Sewing, said Bankhaus Lampe analyst Neil Smith, who has a Buy recommendation on the stock. "A lot of the measures announced were probably already in the pipeline."
Sewing's own comments don't contradict that: he's said more than once that he doesn't intend to change Cryan's strategy so much as to speed up its implementation. But enough news has already trickled out of the bank to suggest that that process has begun.
The bank said in memos Tuesday that Barry Bausano, a longtime senior executive overseeing relations with hedge fund clients, is leaving. Sewing pledged in April to cut its exposure to the prime finance business "where the focus will be on maintaining our deepest client relationships."
Internal Replacements
Jonathan Richman, head of trade and financial supply chain for the Americas, is also leaving, to pursue other opportunities. But in contrast to Bausano, the bank already has two internal replacements lined up: Juan Martin and Giovanni Saladino. The trade business is part of the bank's global transaction banking unit, which produced 15 percent of its revenue last year.
Read More: Deutsche Bank Point Man for Hedge Funds, Barry Bausano, to Leave
Sewing had said in April that the bank "will scale back activities in U.S. rates sales and trading, shrinking the balance sheet, leverage exposure and repo financing."
It isn't clear what the departure of Bausano, who was also head of Deutsche Bank's U.S. securities business, means for businesses such as fixed-income trading, where the bank has been traditionally stronger than in equities.
Deutsche Bank isn't targeting a specific level of cuts at the U.S. unit and the final figure will depend on each business line's decisions, according to another person briefed on the matter.
Asian Pull-Back
Elsewhere overnight, it emerged that Taisuke Tanaka, chief foreign-exchange strategist and head of Japan fixed-income research, and Mikihiro Matsuoka, chief economist for Japan, are leaving, while at least two of its Tokyo foreign exchange desk are following former head of FX sales Tomoo Onishi out of the door. Those departures, too, chime with Sewing's promise in April to pull back from various country-specific businesses in Asia.
In recent weeks, Deutsche Bank has already lost Paul Wong, its head of Hong Kong and China equity sales, its head of transaction banking in Hong Kong, Mahesh Kini and David Zhu, head of syndicated loans for North Asia. It's also closed its Latin American equities research unit, its Brazilian corporate finance unit. Closer to home, it confirmed the departure of global M&A head Thomas Piquemal last week.
— With assistance by Gillian Tan
Before it's here, it's on the Bloomberg Terminal.
LEARN MORE