quicktake
Why Hungary's Vote This Time Is No Cakewalk for Orban
By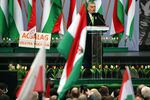 Hungarians have become used to their elections being forgone conclusions. Prime Minister Viktor Orban, the populist ringleader of Europe who's amassed more power than any of his predecessors since communism ended in Hungary three decades ago, has been wiping the floor with the opposition for years. But despite a comfortable lead in opinion polls, a victory in the April 8 parliamentary ballot isn't a given for Orban, as allegations of corruption and a resurgent opposition complicate his path to a third consecutive term.
1. What's at stake?
Orban, 54, has used parliamentary supermajorities since 2010 to transform Hungary into a self-styled "illiberal state" modeled on Russia. He's stacked independent institutions such as the chief prosecutor's office with his allies, while oligarchs with links to the ruling party hold sway over the economy. Orban has been at the forefront of the anti-immigrant turn in Europe, having built a border fence to keep out newcomers. Orban's style of governing has been mimicked by Poland, which like Hungary has clashed with the European Union over the alleged erosion of democracy. Another supermajority would give Orban the chance to boost the power of the oligarchs and further restrict the independence of institutions such as the judiciary. His defeat would enable a new leader to roll back his illiberal measures. It would also weaken his position as an ideological beacon for the populist movement that's swept countries from Poland to Italy.
2. What's different about this election?
For one thing, some of Hungary's opposition parties are working to prevent a repeat of their mistake four years ago, when they competed separately for voters in the 106 electoral districts where the winner is determined by whoever gets the most votes. That opened the way for Orban's Fidesz party to win a whopping 96 of those seats. This time, opposition parties are in talks to field a single candidate in at least some battleground districts, which may help them improve upon their 2014 result. (For the remaining 93 parliamentary seats, voters select the list of their preferred party, and those are distributed to parties according to the portion of votes they win.)

3. Why is Orban leading in the polls?
He has a large and loyal following. The government's relentless anti-immigrant campaign has resonated with a large swath of the electorate. Even as Fidesz has shed support in most polls during the election campaign, its backing is still greater than that of the four biggest opposition parties combined. That means Fidesz is likely to take the biggest chunk of the 93 seats up for grabs on national lists and -- barring an unexpected surge in anti-Orban votes or extensive opposition coordination -- may take most of the 106 district seats as well. Orban also has a more efficient campaign machine, backed by media under his influence, including public networks, as well as government ads that mimic his party's most important themes.
4. So why isn't the election a done deal for Orban?
Opposition parties are under increasing pressure to overcome their differences and coordinate their strategies in local constituencies after they unexpectedly wrested control of a city, Hodmezovasarhely, that Orban's party had controlled for 20 years. That by-election six weeks before the parliamentary ballot, in which opposition parties backed a joint candidate, showed that while Fidesz may be the most popular party, it is vulnerable even in a stronghold when opposition voters are presented a single alternative. Almost-daily reports of corruption scandals in the run-up to the parliamentary election, involving senior government officials as well as the prime minister's son-in-law, may also hurt Orban. Perhaps to dampen expectations, Fidesz's parliamentary leader predicted that his party was unlikely this time around to win another supermajority, meaning two-thirds of all parliamentary seats which allows a government to pass any law without opposition support.
5. How's cooperation within the opposition going?
Opposition parties have ruled out a full-fledged alliance, so most of them will have separate party tickets on voting day. But some opposition groups, including those that previously were against cooperation, have started talks on withdrawing candidates. Whether negotiations will result in a deal and, if so, how many districts that would cover, may not be known until days before the vote. Key to watch is whether Jobbik, a formerly far-right group that's polling as the most popular opposition party, and the Socialist Party, which governed from 2002 to 2010, withdraw candidates to avoid knocking one another out.
6. What would an opposition victory look like?
Messy. At least three different opposition parties with differing agendas would probably be forced to form a coalition government, and their ability to craft policy would be constrained by independent institutions led by Orban's allies. Opposition pledges on the economy range from one-off salary and pension hikes to tax cuts, possibly risking Orban's track record for fiscal discipline. Some observers believe an opposition coalition would be so shaky, it would be hard-pressed to serve out a full four-year term.
The Reference Shelf
Before it's here, it's on the Bloomberg Terminal.
LEARN MORE