Finance
What's Boosting the World's Best-Performing Stock?
Hungary's Konzum rallied after a businessman with ties to Prime Minister Viktor Orban bought a large stake.
By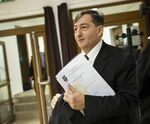 Sales at Hungarian conglomerate Konzum Nyrt. dropped 99 percent last year, its short-term debt ballooned sevenfold, and it cut its staff by 86 percent. This year? Konzum has the world's best-performing stock, its shares soaring more than fiftyfold on the Budapest exchange at one point. The company has a market value of about $142 million. "Maybe I'm smarter" than Mark Zuckerberg, said Lorinc Meszaros, a former gas fitter who in February sparked the rally when he bought a 20 percent stake in Konzum, speaking to reporters that month.
Or maybe Meszaros has better friends. A former schoolmate of Hungary's prime minister, Viktor Orban, he's mayor of their hometown a half-hour's drive from Budapest and president of a sprawling soccer academy Orban founded near his weekend house. Since 2014, Meszaros's wealth has increased fifteenfold, making him Hungary's fifth-richest citizen, according to financial website Napi.hu, with an estimated net worth of $460 million. His businesses range from construction to wineries. The private commercial broadcaster RTL Klub, which has clashed with the government, calculated that in 2016, companies linked with Meszaros and his family won 225 billion forint ($858 million) in public procurement contracts. In a 2014 interview with the weekly Heti Valasz, Meszaros credited hard work plus "God, luck, and Viktor Orban" for his fortune.
Hungary has changed since Orban roared back to power in 2010 after eight years in the opposition. He's used his two-thirds majority in Parliament to rewrite the constitution, centralize authority, appoint allies to key state institutions, and create what he calls an "illiberal state." While Orban has earned praise for stabilizing public finances and weaning the country off International Monetary Fund loans, Transparency International says he's eliminated checks on corruption and enriched his friends. "It's obvious that they're pocketing public money, but it all seems to be in accordance with the laws of the land," says Laszlo Urban, a business professor at Central European University in Budapest and a former member of Orban's Fidesz party. "That's really the worrying thing for me: that it's all legal."
Filings with regulators don't show that Meszaros has sold significant numbers of Konzum shares, but independent watchdogs and members of the opposition say his relationship with Orban presents, at a minimum, the appearance of conflicts of interest. "Meszaros is a front for Orban," says Akos Hadhazy, co-chairman of the LMP party, who quit Fidesz in 2013 after alleging it was riddled with corruption. "And Orban is omnipotent in Hungary."

Orban rejects the notion that Meszaros—mocked by parliamentary opposition parties with the rhyming nickname penztaros, or "cashier"—is doing his bidding. "I've never had and never will have a straw man," Orban told Parliament in April in response to a question about his ties to his old friend. For his part, Meszaros insists he should be judged on his merits as a businessman and not on his relationship with the prime minister. "We're friends, but that doesn't give me any financial benefits," Meszaros told reporters in February. He's also said bids for procurements are open to anyone.
Founded as a retailer a year before the fall of the Iron Curtain, Konzum listed on the resurrected Budapest Stock Exchange in 1990. Trying its hand at businesses such as selling building materials and manufacturing kitchenware, it bounced along in penny stock territory.
That changed in February when Meszaros announced he'd bought into Konzum, fueling speculation that the purchase would spark a rally even though the company's 2016 sales were just $91,000. "Kids, state funding is about to pour in and the stock price will go skyward!" an investor using the handle Metwolf wrote on the financial website Portfolio. Within two weeks, Konzum's shares had quadrupled; in July they peaked above 2,800 forint—a gain of 5,400 percent for the year. On July 24, Konzum closed at 1,786 forint, the best return this year out of about 16,000 actively traded stocks with market values above $100 million.
Since February, Konzum has acquired stakes in at least five companies with assets ranging from campgrounds to banks to newspapers, adding to the portfolio of hotels it bought in 2016. Some companies connected to Konzum may be owned via a web of subsidiaries. Meszaros, for example, owns 53 percent of a fund manager affiliated with Konzum, which indirectly controls MKB Bank, Hungary's fifth-largest lender. And Konzum has a stake in Opimus Group, a company partly owned by Meszaros that last year acquired Hungary's largest print media portfolio. Opimus, which also owns a stake in Konzum, has become Eastern Europe's most actively traded stock as its share price has quintupled this year.
Konzum declined to make Meszaros or any executives available. But Chief Executive Officer Gellert Jaszai in March told the business daily Vilaggazdasag—owned by Opimus—that Konzum is plenty transparent and that it's seeking to attract foreign institutional investors.
Despite the popularity of Konzum's shares—its trading volume sometimes exceeds that of the Budapest Stock Exchange's four blue-chip companies combined—most brokerages have chosen not to publish regular reports and analyses about the company. Three analysts declined to discuss Konzum on the record, citing its opacity and saying they couldn't see any justification for its share price.
Meszaros's businesses took off in 2014 after Orban had a falling-out with another longtime ally, whose companies had won (or were part of a group that won) 11 percent of public procurement money the previous year. By 2016 that oligarch's share of state contracts had fallen to 0.1 percent, according to the Corruption Research Center, a Budapest think tank that's analyzed 150,000 public tenders since 2009. "Friendship with Orban or being a member of his family pays off," says Istvan Janos Toth, general director of the center. "You just have to make sure that friendship doesn't sour."
BOTTOM LINE -
Hungarian company Konzum had 2016 sales of just $91,000, yet its stock has soared since an ally of Prime Minister Viktor Orban bought in.
Before it's here, it's on the Bloomberg Terminal.
LEARN MORE