quicktake
All About Five Star, Bane of Italy's Establishment
By and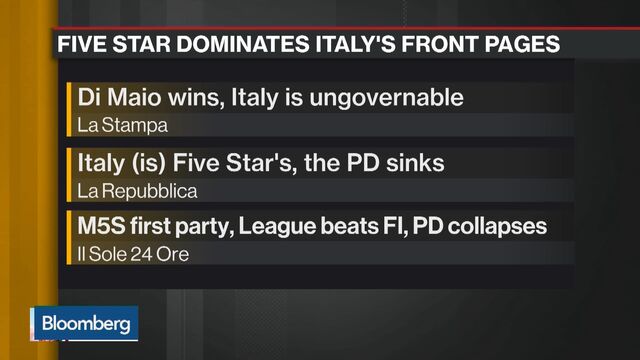 The Five Star Movement's anti-establishment credo has struck a chord with Italian voters. The populist group, which says it wants to give power back to the people, is on course to fill more seats in Parliament than any of Italy's political parties after the March 4 general election. Although it's fallen short of a majority of seats, Five Star is likely to play a crucial role in the next governing coalition, casting aside its previous reluctance to enter traditional alliances and coalitions.

1. What is Five Star?
It calls itself a movement and not a regular political party. It was founded in 2009 as a web-based organization by Beppe Grillo, a comic-turned-politician, along with internet strategist Gianroberto Casaleggio. At first, Grillo focused on uncovering corruption in government and at corporations like Parmalat SpA, branching out into politics as interest in his campaigns snowballed. The movement says it belongs to neither right nor left, and the main source for its views is its official blog.
2. How strong is Five Star?
Polls suggest it took about 32.5 percent of the vote. Already, the movement won local elections in Rome, Turin and other towns in 2016, with lawyer Virginia Raggi elected as the capital's first female mayor. Raggi has been plagued by the resignations of several of her cabinet members and corruption scandals involving her administration.
3. Who would lead a Five Star government?
Grillo's criminal record from a manslaughter conviction in the 1980s renders him ineligible to serve in Parliament. Five Star's candidate for prime minister is Luigi Di Maio, who, at 31, would be Italy's youngest premier ever. He studied engineering, then law, without receiving a degree, and worked briefly as a webmaster before running unsuccessfully as a Five Star candidate for his local town council near Naples in 2010. Three years later he became deputy-speaker of the lower house of parliament. In September, Five Star elected him its prime minister candidate and political head.
4. What does Five Star stand for?
The five stars in its name represent the five issues it cares most about: public water, sustainable transport, sustainable development, the right to internet access and environmentalism. The group has attacked corruption in mainstream politics and denounced banker pay while demanding tax cuts for small businesses. Di Maio has criticized European Union budget rules, wants more leeway for public investment and intends to set up a public investment bank modeled on Germany's KfW.
5. Where does Five Star stand on the European Union?
Five Star has softened its euroskeptic stance; it now says a referendum on abandoning the euro would be a "last resort" after attempts to overhaul EU treaties. Even if there were a referendum, recent polls show only 15 percent of Italians support a euro exit. (Five Star leaders may have noticed that referendums can be hazardous to the political health of those who call them.) And a public vote in favor of dropping the euro wouldn't be enough to break Italy out of the European single currency, since foreign treaties cannot be abrogated with just a referendum.
The Reference Shelf
— With assistance by Grant Clark
Before it's here, it's on the Bloomberg Terminal.
LEARN MORE