These Venezuela-Dedicated Hedge Funds Lost Faith in Their Bond Bets
By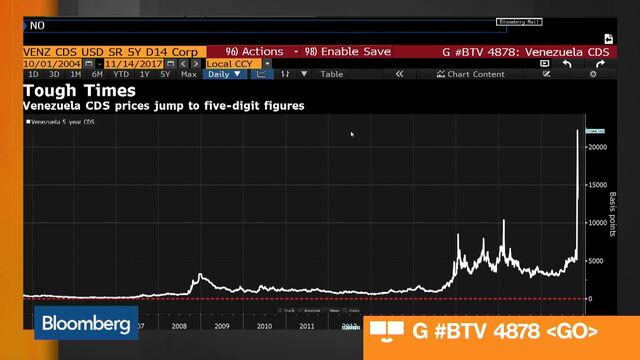 It may be in their name, but Venezuelan-dedicated hedge funds aren't so dedicated to Venezuela anymore. Even the boldest money managers are losing hope that the oil-rich nation can keep servicing its debt.
Russ Dallen, who oversees the Venezuela Opportunity Fund, last month told clients for the first time in his career to buy credit-default swaps to protect against a default. Gramercy Funds Management, which started a Venezuela Opportunity Strategy fund in 2015, sold its Venezuelan assets late last year. And Ashmore Group Plc, known for its bullish comments on Venezuela, cut its exposure during the past 12 months.
"They are hitting bottom," said Dallen, the managing director at Caracas Capital. "No one appears to be bailing them out this time."

An International Swaps & Derivatives Association committee ruled yesterday that delays in debt payments by the nation and by state-run Petroleos de Venezuela SA triggered payouts on more than $1.5 billion of credit-default swaps. That came after default declarations by Fitch Ratings, S&P Global Ratings and Moody's Investors Service. Although Nicolas Maduro's government has insisted that it will continue honoring foreign debts, U.S. sanctions have led to delays in processing bond payments and make restructuring efforts almost impossible.
Some traders say there are still a few short-term opportunities to profit on Venezuela. Even Ashmore holds out some hope, saying that it now has more flexibility to buy into dips on the nation's debt.
"Venezuela -- the gift that keeps on giving!" Jan Dehn, who helps manage Ashmore's $59 billion in emerging-market holdings, wrote on Twitter. "Bond holders paid in full AND holders of default protection (CDS) paid too!"

Shortly before PDVSA's 2020 notes came due on Oct. 27, the Venezuela-dedicated hedge fund Knossos Asset Management plowed more than half of its portfolio into the bonds, according to an investor letter seen by Bloomberg. It's not the first bold move made by the fund, run by Venezuelan nationals Carmelo Haddad and Francisco Ghersi. But it stands out because in August Knossos said it had liquidated 90 percent of its assets as part of a "fully defensive stance."
Ghersi said the bond bet was a short-term wager and risks remain high, particularly for Electricidad de Caracas's $650 million in notes due in April.
"It's going be a miracle if Elecar pays the principal," he said. "April is like 10 years to Venezuela."
Before it's here, it's on the Bloomberg Terminal.
LEARN MORE