Gramercy Says Venezuela Saga to Be Worse Than Argentina's
By
Koenigsberger says debt restructuring may take three years

'Let's restructure really means let's default,' he says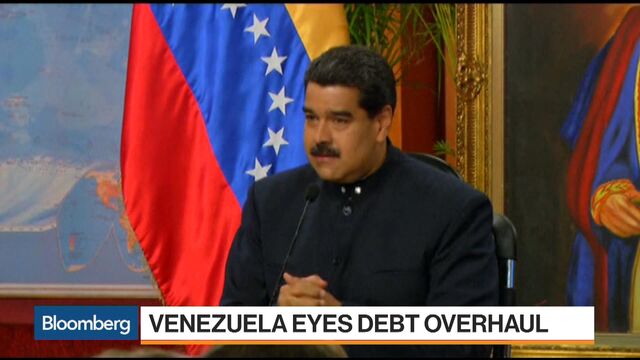 Of the many sovereign bonds restructurings Robert Koenigsberger has witnessed in his three decades in the business, none will come close to Venezuela, he says.
The 52-year-old distressed debt investor says that the Trump administration's sanctions on President Nicolas Maduro and other Venezuelan officials will wreak incalculable havoc on any attempts at a negotiated solution. The resulting chaos is likely to be worse than what was seen during Argentina's 15-year battle with holdout creditors led by billionaire Paul Singer -- considered one of the most complicated and painful restructurings seen in Latin America over the past two decades, according to Koenigsberger.

Calculating that it was only a matter of time before the oil-rich nation succumbed to default, the money manager became so pessimistic on the country about a year ago that he sold off all the Venezuelan assets from his fund that was supposed to be dedicated to Venezuela.
"During the Argentine crisis, if you gave me the keys to the Argentine Finance Ministry, I could have solved the problem in 60 days," said Koenigsberger, who oversees $6 billion as chief investment officer at Greenwich, Connecticut-based Gramercy Funds Management. "If you gave me the keys to Venezuela's Finance Ministry, I'd hand them back to you."

For a number of years, many investors bought Venezuela's shortest-term bonds, figuring that while an eventual default was inevitable, the country was likely to muddle through for as long as it could. Koenigsberger criticized that belief, calling it "intellectually lazy." To him, Venezuela's problem isn't over-indebtedness, but a lack of liquidity as dollars have dried up. While that leaves the country in a better position once it restructures, it will be the cause of significant pain for investors over the coming years, he said.
"What's not priced today is that Venezuela can have a default and no regime change," Koenigsberger said. "If these guys want to stay in power, they'll stay in power whether they make debt payments or not. I think it's going to take longer for a resolution because it may take longer for regime change."
Here's what else Koenigsberger had to say about Venezuela's debt crisis:
How will U.S. sanctions impact a debt restructuring?
"They're saying come talk to our head of restructuring when he's on the OFAC list. If you can't talk to your counterparty and can't swap with your counterparty, those are the two basic tenets of a restructuring. Therefore 'let's restructure' really means 'let's default.' Then, there will be finger-pointing that 'we'd love to restructure our debt but those Yankees won't let us do it. Go talk to Donald Trump and when he removes sanctions we can talk."'
What recovery values can bondholders expect?
"Having been at the table for major sovereign debt restructurings for 30 years now, I believe prices can go a lot lower. When Russia defaulted in 1998, despite it ultimately being worth 65 cents or so, the bonds traded at about 6 cents for six months. Defaulted Argentina bonds traded at about 8 cents and sub-15 for well over six months. There's this belief in the marketplace that there's this magic price that Venezuela will stop at. While we see restructuring value eventually exceeding 50 or 60 cents on the dollar, prior to that there will be material downside."
Is there any way this process turns out painless?
"The only quick resolution is if the Venezuelans say we're just kidding, we're going to pay. Our base case is we're entering into a default and resolution that will take a long time. I wouldn't be surprised if it takes three years for regime change and restructuring. Paying off foreign bondholders isn't your first order of business after a regime change."
If Venezuela's defaulting, why would PDVSA pay?
"The biggest mistake a defaulter makes is making the last payment before the default. There is all sorts of speculation that a lot of the beneficiaries of payments have been Venezuelans themselves and senior members of the regime, so it's quite possible that this is one way of moving money to where they want it. Maduro's statement may have been to say 'don't do the monkey trade anymore,' which is buying the next bond to mature."
Before it's here, it's on the Bloomberg Terminal.
LEARN MORE