China Factory PMI Falls From Five-Year High on Pollution Cleanup
Bloomberg News
China's official factory gauge fell this month, with new orders and prices leading the decline, as officials increasingly prioritize a campaign to clamp down on polluting industries and rein in debt.
Key Points
The manufacturing purchasing managers index fell to 51.6 in Oct., vs. 52 forecast in Bloomberg survey, and five-year high of 52.4 in Sept.
The non-manufacturing PMI stood at 54.3 vs. 55.4 in previous month
Numbers higher than 50 indicate improving conditions; readings below 50 signal a worsening outlook
Big Picture
With the economy transitioning away from a growth-at-all-costs model, officials are prioritizing the environment and a push to tame credit growth -- key policy directions that were highlighted during the twice-a-decade Communist Party Congress this month. Still, China is poised for its first full-year growth acceleration, defying predictions of a sharper slowdown triggered by the leverage campaign and property risks.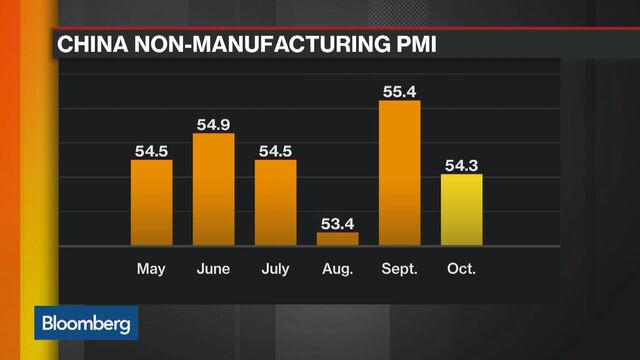 Bloomberg Intelligence
"The data suggest growth remains on track to hit the government's '6.5% or above' target for this year," Bloomberg Intelligence economist Fielding Chen wrote in a note. "Continued, if slightly milder, growth momentum would provide leeway for the government to push ahead with its deleveraging agenda," Chen wrote.
Economist Takeaways
"The overall steadiness in the economy remains intact," Zhao Hongyan, China economist at Huatai Financial Holdings Ltd. in Hong Kong. "The Party Congress didn't send any signals for upcoming massive stimulus, so it's unlikely this year or next."
The lower PMIs may indicate a moderation this quarter, Betty Wang, Hong Kong-based senior economist at Australia & New Zealand Banking Group Ltd., wrote in a note. "But it is unlikely to change the broad picture of steady growth in 2017."
"China poses little near-term threat to the global expansion," Bill Adams, senior international economist at PNC Financial Services Group in Pittsburgh, wrote in a note. "Today's latest data are emblematic not only of China's economy but also of the global economy in 2017: Growth is moderate, but reassuringly broad-based."
"Tighter environmental supervision has definitely impacted the PMI in October as shown in the breakdown," said Gao Yuwei, a researcher at Bank of China Ltd.'s Institute of International Finance in Beijing. "Yet the strong industrial profits last month indicated that manufacturing is doing fine. As the winter season nears, factories in the north may have to reduce production due to pollution restrictions, but the drag effect won't be so serious as manufacturing's overall contribution to GDP growth has been declining."

The Details
PMI for high energy-consuming and highly-pollution sectors sank to below 50, as "some regions intensified their efforts to clean up the environment," the National Bureau of Statistics said in a statement 
New orders declined to 52.9 from 54.8, the biggest drop since May 2012
Input and output prices both slid
Conditions for small, medium-sized enterprises both deteriorated
Steel industry PMI slipped to 52.3
Higher-end and consumption-related activities continue to drive growth, according to the statement
— With assistance by Xiaoqing Pi, Ailing Tan, Yinan Zhao, and Miao Han
Before it's here, it's on the Bloomberg Terminal.
LEARN MORE