Xi Skips Old Growth Pledge as China Seeks Quality, Not Quantity
Bloomberg News
Xi didn't mention a key Party goal of doubling GDP by 2020

Change of wording in blueprint talk stresses quality over pace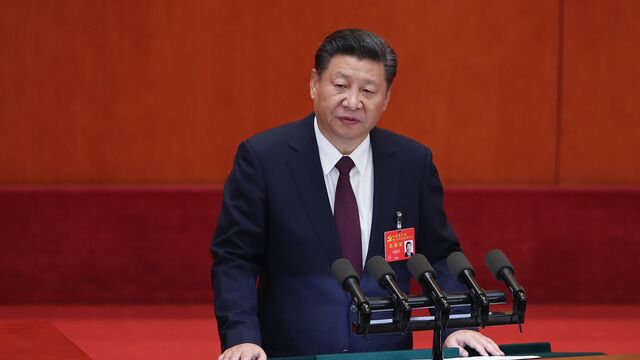 Chinese President Xi Jinping has quietly dropped a commitment made by his predecessor to double the size of his nation's economy.
In 2012, former President Hu Jintao pledged China will "double its 2010 gross domestic product and per capita income for both urban and rural residents" by 2020, which dictated a roughly 6.5 percent annual growth pace through that decade. Today, instead of re-iterating that goal, Xi has replaced it with a much vaguer commitment that China will stick to previous requirements, which included building a "moderately prosperous society" by 2020.
The omission doesn't mean that China is slipping on its growth pledge. With Xi claiming annual output has now reached 80 trillion yuan ($12 trillion), if growth remains steady a doubling of the 2010 level should be within reach. But the softer language may signal less focus on the pace of the expansion, and higher attention to tasks such as curbing pollution, taming financial risks and closing the income gap.
Xi also scrapped the reference at a time when China's economy is actually performing pretty well -- growth has held up this year and his flagship supply-side reform has driven global reflation.
The absence of such a target means the leaders want more flexibility about economic expansion, Larry Hu, head of China economics at Macquarie Securities Ltd. in Hong Kong, wrote in an e-mail.
Lower Growth
"China's policy makers are likely to tolerate growth to have another leg down to 5 to 6 percent in the next five years, so that they could have bigger room to fix the structural problems and make growth more sustainable," Hu wrote.
That's in line with earlier messages of tolerance of slower growth in exchange for stable development. Xi told a meeting of the Communist Party's financial and economic leading group last year that China doesn't need to meet the objective if doing so creates too much risk, Bloomberg News reported in December.
Xi's speech, which ran for more than three hours and mapped out a grand strategy for China's development by 2050 implies "a change in growth and development objectives," said Chen Xingdong, chief China economist at BNP Paribas SA in Beijing. The party is seeking to share "growth and prosperity for the majority of people through reformation of income distribution," Chen said.
— With assistance by Xiaoqing Pi, and Keith Zhai
Before it's here, it's on the Bloomberg Terminal.
LEARN MORE