Asia Stocks Advance Amid Strong U.S., China Economic Data
By
MSCI Asia Pacific Index poised for 8th straight month of gains

Fosun International jumps as half-yearly profit rises 34%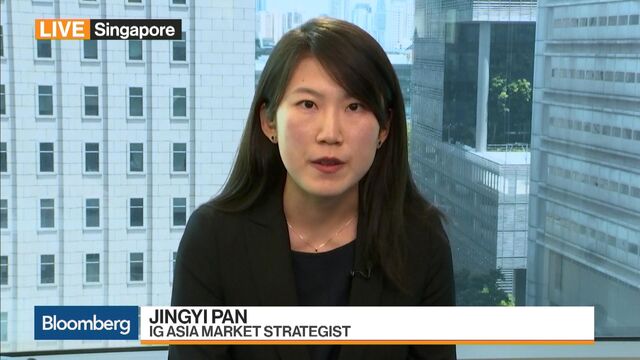 Asian stocks advanced for a second day after data showed the economic resilience of U.S. and China, outweighing the Trump administration's mixed signals on North Korea's latest missile provocation.
About five stocks gained for every three that declined on the MSCI Asia Pacific Index, which added 0.1 percent to 160.51 as of 3:40 p.m. in Hong Kong. U.S. data showed second-quarter growth in the world's biggest economy reached the fastest pace in two years on stronger household spending and a bigger gain in business investment, while China's official factory gauge further strengthened in August, defying economist forecasts for a decline.
"The U.S. and China data support the outlook that the global recovery is gaining ground and the growth is on a strengthening trajectory that will be good for corporate earnings and exporters to these two markets," said Cristina Ulang, head of research at First Metro Investment Corp. in Manila. "North Korea remains a concern, but the expectation is this will be settled through diplomacy for we all stand to lose more from a nuclear confrontation."
A day after adopting a measured response to North Korea's missile launch across Japan, President Donald Trump took a tougher stance on Wednesday, posting on Twitter that "talking is not the answer!" Defense Secretary Jim Mattis said later Wednesday that diplomacy remains an option.
After the MSCI Asia Pacific Index closed on Aug. 2 at the highest since 2007, concern over rising tension between U.S. and North Korea has limited its monthly gain to 0.1 percent, the weakest performance this year. The regional benchmark is still heading for its eighth straight month of gains in the longest winning streak in a decade, and has climbed 19 percent so far this year.

Shares in Japan rose Thursday as the yen weakened for a third day, while a drop in banks pushed Hong Kong stocks lower from the highest level since May 2015. A gauge of health-care companies led the advance among the MSCI Asia Pacific Index's 11 industry groups, climbing 0.5 percent. The Malaysian market is shut for a holiday.
Fosun International Ltd., the listed flagship of Chinese billionaire Guo Guangchang's insurance-to-drugs conglomerate, jumped as much as 11 percent in Hong Kong, its biggest gain since July 2015. The company said post-market Wednesday that first-half net income increased 34 percent amid higher returns from investments. Chief Executive Officer Wang Qunbin said Thursday that the company's overseas expansion will benefit from recent government rules on outbound investment.
Summary
Japan's Topix +0.6%, Nikkei 225 +0.7%

Japan Shares Rise as Yen Falls, Lifting Banks, Electronics Firms
Fujifilm Climbs to 5-Month High on Buyback, New Business Plan
Nikkei 225 Gets Technical Support Amid Geopolitical Risks: Chart

Hang Seng Index -0.6%, Hang Seng China Enterprises Index -0.9%
Kospi -0.4%, Kospi 200 Index -0.4%

Kia Motors Likely to Pay Total 1T Won Wages After Ruling : KIS

Shanghai Composite Index down less than 0.1%, Taiwan's Taiex index +0.2%
Australia's S&P/ASX 200 Index +0.8%, New Zealand's NZX 50 +0.5%
Philippine Stock Exchange Index little changed, Jakarta Composite Index -0.4%, Singapore Straits Times Index +0.4%, Vietnam's VN Index +0.9%, Thailand's SET Index -0.2%
India's Sensex little changed
Before it's here, it's on the Bloomberg Terminal.
LEARN MORE