China Factory Gauge Shows Robust Economy as Price Outlook Surges
Bloomberg News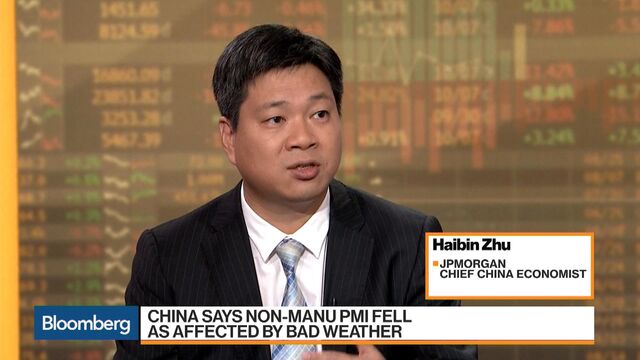 China's official factory gauge rebounded, suggesting the economy may remain robust enough to offer policy makers more room to continue curbing financial risks.
Key Points
The manufacturing purchasing managers index increased to 51.7 in August, compared with the 51.3 forecast in a Bloomberg survey of economists, and the 51.4 reading in July
The non-manufacturing PMI slipped to 53.4 compared with 54.5 in July
Numbers higher than 50 indicate improving conditions; readings below 50 signal a worsening outlook
Big Picture
The unexpected jump, after an across-the-board cooling in July, highlighted stronger momentum on the factory floor as the government's effort to curb overcapacity in industry pushed raw material prices higher. The challenge ahead for policy makers is to balance preserving the pace of growth with slowing the pace of credit expansion.
Economist Takeaways
"China's economy is operating at a very high level, and will remain stable until at least the fourth quarter," said Zhou Hao, an economist at Commerzbank AG in Singapore and the only analyst who accurately forecast the August manufacturing reading in a Bloomberg survey. "Any further surprise jump will be unlikely."
"Industrial output defied a slowdown in the broader economy last month," said Julian Evans-Pritchard, a China economist at Capital Economics Ltd. in Singapore. "We suspect that this partly reflects speculation over future capacity cuts, which have pushed up the price of key industrial metals, in turn encouraging a step-up in production of these metals."
"China's supply-side reform and capacity reduction have been very successful," said Yao Shaohua, an economist at ABCI Securities Co. in Hong Kong. "Profits at raw material corporates surged on strong prices, which in turn supported factories' output and investment."
Bloomberg Intelligence
"China's surprisingly robust growth performance so far this year has triggered talk about the beginning of a 'new cycle' of sustained moderate growth, underpinned by efforts to close down redundant capacity in heavy industry," Bloomberg Chief Asia Economist Tom Orlik wrote in a note. "With growth underpinned by continued easy credit and government stimulus though, BI Economics is skeptical that a structural shift has occurred. "
The Details
New orders climbed to 53.1 from 52.8 in July as business activity expectations rose to 59.5 from 59.1
New export orders slid to 50.4 from 50.9 in July
A separate PMI for the steel industry rose to 57.2 this month, the highest in 16 months
Conditions at large, medium and smaller enterprises diverged; the larger firms index slipped to 52.8 from 52.9, the medium firms index rose to 51.0 from 49.6 and the smaller companies index rose to 49.1 from 48.9
A sub-gauge for construction sentiment fell to 58 in August from 62.5 due to weather conditions, according to the NBS
The sub-gauge for the services sector also edged down to 52.6, showing a slower pace of expansion
Inventory indexes in both manufacturing and non-manufacturing sectors fell
— With assistance by Kevin Hamlin, Xiaoqing Pi, Fion Li, Yinan Zhao, and Martin Ritchie
Before it's here, it's on the Bloomberg Terminal.
LEARN MORE