markets
U.S. Second-Quarter Growth Revised to 3% in Momentum Boost
By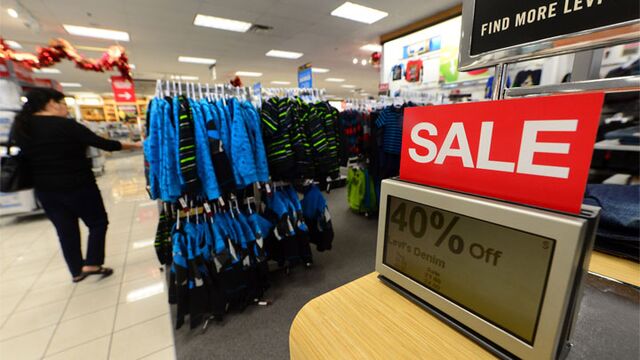 U.S. second-quarter growth was revised upward to the fastest pace in two years on stronger household spending and a bigger gain in business investment, putting the economy on a stronger track, Commerce Department data showed Wednesday.
Highlights of GDP (2Q, Second Estimate)
Gross domestic product rose at a 3% annualized rate from prior quarter (est. 2.7%); revised from initial estimate of 2.6%
Consumer spending, biggest part of the economy, grew 3.3% (est. 3%), most since second quarter of 2016 and revised from 2.8%
Nonresidential fixed investment rose 6.9%, revised from initial increase of 5.2%
Corporate pretax earnings rose 7% y/y; up 1.3% q/q
Key Takeaways

The revisions indicate greater momentum going into the second half of 2017, as well as showing that growth in GDP -- the value of all goods and services produced -- may be broadening beyond household spending.
The upward revision to consumption reflects spending on wireless-phone services, used cars and electricity and natural gas, according to the report. American consumers remain in the driver's seat in the current expansion, backed by a strong job market, contained inflation and low borrowing costs.

Business spending got a boost from software, helping intellectual-property investment rise at a 4.9 percent pace, up from an initially reported 1.4 percent. Outlays on structures and equipment were also revised upward, suggesting companies are upbeat about rising orders amid steady U.S. demand and the improving outlook for exports.
The first look at corporate profits for the quarter also bodes well for business investment and for hiring, which has been robust so far this year. A separate report on Wednesday from the ADP Research Institute showed companies added more workers than forecast in August, a positive sign ahead of the Labor Department's monthly payrolls data due Friday.
Even though the pace of growth is in line with the Trump administration's long-term goal of 3 percent, many analysts don't expect that rate to be maintained in the coming years or even in the coming months. Fallout from Hurricane Harvey may also trim third-quarter growth, though reconstruction is likely to help expansion in the following period.
The revisions bring the pace of first-half growth to 2.1 percent, about equal to the average rate since the last recession ended in 2009. Economists had anticipated a second-quarter rebound following 1.2 percent GDP growth in the first three months of the year.
Other Details

Nonresidential fixed investment, which includes spending on equipment, structures and intellectual property, added 0.85 percentage point to growth, more than the 0.64 point previously estimated
Residential investment shrank at a 6.5 percent rate, less than initial estimate of a 6.8 percent decline
Net exports added 0.21 percentage point to growth, revised up from 0.18 point; inventories added 0.02 point after an initially estimated drag of 0.02 point
Stripping out trade and inventories -- the two most volatile components of the GDP calculation -- final sales to domestic purchasers rose 2.7 percent compared with a previously reported 2.4 percent pace
Government spending decreased at a 0.3 percent rate, dragging down growth by 0.05 percentage point; the downward revision reflected state and local outlays on construction
Gross domestic income rose at 2.9 percent pace after 2.7 percent in prior quarter
After-tax incomes adjusted for inflation increased at an unrevised 3.2 percent annual pace; saving rate was revised to 3.7 percent from initial estimate of 3.8 percent
Wages and salaries for the second quarter climbed by $91 billion, revised up from an $89 billion increase initially estimated
Federal Reserve's preferred price index, excluding food and energy, rose at an unrevised 0.9 percent annualized rate last quarter, matching the weakest gain since 2010
GDP report is the second of three estimates for the quarter; the third is due in September as more data become available
— With assistance by Chris Middleton
(
Adds ADP figures under Key Takeaways.
)
Before it's here, it's on the Bloomberg Terminal.
LEARN MORE