Your Evening Briefing
Bloomberg News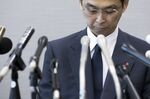 Takata has filed for bankruptcy protection in the biggest corporate failure in postwar Japanese manufacturing, buckling under liabilities from millions of recalled air bags that have been linked to at least 17 deaths. The filings remove the last hurdle for the 84-year-old company to be sold to Key Safety Systems, the U.S. airbag maker owned by China's Ningbo Joyson Electronic Corp. Here's how the company's failures led to lethal products and the biggest auto recall in history.
China's rags-to-riches transformation isn't over quite yet. In 1992 more than a half of the country's population lived on less than $2 a day—on par with Haiti. Thanks to economic reforms put in place by Deng Xiaoping from the seventies that set off rapid industrialization and urbanization, the China miracle is set to continue with its per capita GDP seen rising to 64th out of 166 countries by 2022, up from being the 133rd-poorest 25 years ago.
Australians may soon be struggling to make ends meet. With real wages going backward in the first quarter and the developed world's highest debt-to-GDP ratio after Switzerland, consumers are setting aside less cash for a rainy day. Savings levels have more than halved in five years, while home buyers have borrowed vast sums to break into the Sydney and Melbourne housing markets. At stake is the economy's trajectory: any long-term weakness in consumption will weigh on growth.
China jails Crown Resorts' head of international high-roller operations. Jason O'Connor was locked up for 10 months and two colleagues were each sentenced to nine months in prison, in China's biggest crackdown on an overseas casino operator courting customers on the mainland. The case demonstrates the government's determination to halt hundreds of billions of dollars worth of outflow, some of which exit the country via betting operations.
Hong Kong's Mr. Market wants to bring the world to Chinese investors. After three years of helping China open its stock market to the world, Charles Li wants to start bringing the world to Chinese investors. The CEO of Hong Kong Exchanges and Clearing plans to turn the platform into the primary conduit for capital-market flows to and from China. His ultimate goal: a trading hub in Hong Kong big enough to rival those of New York and London.
Saudi Arabia's religious police are back, just with a little less vengeance. The foot-soldiers in short, white robes and unadorned headdresses seemed to have all but vanished from Riyadh last year after the government barred them from making arrests or questioning people. But recently, as some Saudis complain of creeping immorality, they're back in many areas of the capital, rebuking men and women for mixing in public and clamping down on uncovered hair, albeit a little more politely.
Stop fooling yourself about 8 percent easy returns. There's an amazing amount of denial going on right now, writes Lisa Abramowicz. Investors are simply ignoring current market dynamics and are still expecting average annual returns of 8.6 percent, according to survey of income investors released this week. The problem is, the only way to meet these lofty returns goals is to take much bigger risks than in the past. If investors cling to these inflated visions of future returns, problems will ensue.
Trump's 'true friend.' Indian Prime minister Narendra Modi is due to meet with the U.S. president at the White House Monday, in a visit that will allow the pair to build a personal rapport but is less certain to produce significant progress on issues such as immigration. "Important strategic issues to discuss with a true friend!", Trump said at the weekend on his presidential Twitter account.

Before it's here, it's on the Bloomberg Terminal.
LEARN MORE