Country will rise to 64th in per capita GDP by 2022

Per-person gap with rich nations will remain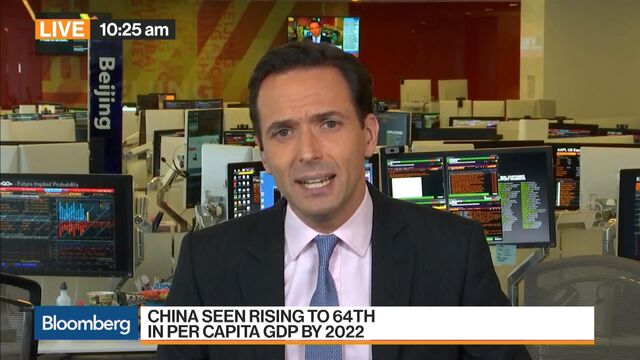 China's transformation from rags to riches isn't over quite yet.
Thanks to economic reforms put in place by Deng Xiaoping from the seventies that set off rapid industrialization and urbanization, the China miracle is set to continue with its per capita GDP seen rising to 64th out of 166 countries by 2022, up from being the 133rd-poorest in 1992 — on par with Haiti and with over half its population living on less than $2 a day.
The current $16,676 per capita GDP level is already higher than Brazil's when adjusted for purchasing power, according to a Bloomberg analysis of International Monetary Fund data.

Importantly, this rise has translated into tangible benefits. The Chinese live six years longer on average and have full access to electricity, less than two percent of the population live under the global poverty line and the average calorie deficit has been cut by more than half, according to World Bank data going back to 1992.
Over the next five years, China's per-person economic growth will see it bypassing the likes of Mexico and oil-rich Azerbaijan, putting it just shy of Argentina.
The country's ongoing shift from a manufacturing-based economy to a services-driven one will likely play a part in this, as may the recent end to China's one-child policy. At the same time, additional progress could come at the cost of a widening income gap as well as increased environmental strains around the country's pollution-plagued cities. 

Like China, fellow G-20 members India, South Korea and Indonesia are expected to achieve double-digit improvements in their per capita GDP rankings between 1992 and 2022. The United States will remain unchanged in tenth place globally, while 10 members will see their relative standings deteriorate.
China also stands out among its emerging market BRICS peers, modestly closing the gap with Russia's mid-forties rank position and passing South Africa and Brazil in 2014 and 2016, respectively.

Despite all this progress, China still hasn't closed a yawning income gap between itself and the world's wealthiest economies, currently around $26,000 with Japan and nearly $43,000 with the U.S. Five years from now, this sizeable divide will remain.

Current-price purchasing power parity, used in this analysis, allows for a comparison of relative living standards by normalizing for pricing and currency differences across countries.
Before it's here, it's on the Bloomberg Terminal.
LEARN MORE