markets
Eddie Lampert's Retail Empire Wobbles With Sears Canada Filing
By and
Move is seen as a 'black eye' for Sears and billionaire CEO

Lampert owns about 45 percent of Sears Canada's stock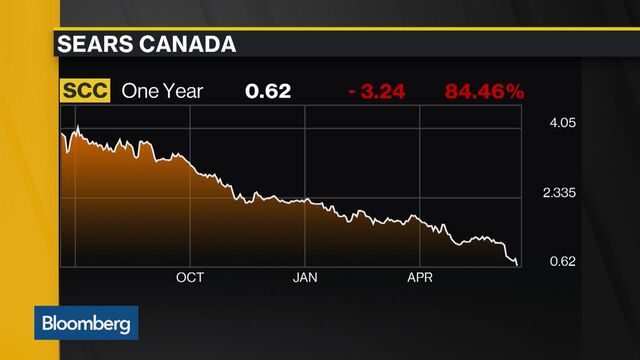 Eddie Lampert's sprawling retail empire, built when the billionaire combined Kmart and Sears more than a decade ago, just suffered its highest-profile stumble yet.
Sears Canada, which was partially spun off from Sears Holdings Corp. in 2012, went to court on Thursday to seek protection from creditors. The move -- something akin to a Chapter 11 filing -- followed failed creditor negotiations and the search for a possible buyer. A person familiar with the situation said earlier this week that the chain ultimately expects to liquidate its operations.

The move deals a setback to the Sears name and raises concern that other Lampert entities may falter. Sears Holdings, once the world's largest retail chain, has racked up more than $10 billion in losses over the past six years.
Lampert himself, a hedge fund manager who serves both as Sears's chief executive officer and its largest investor, has used his own money to help keep the business afloat. But he's contending with a broad slump among department-store companies, worsened by slowing mall traffic and deep discounts.
"It's definitely another black eye for Sears," said Steve Azarbad, co-founder and chief investment officer of Maglan Capital, which focuses on distressed companies.
Sears is already a shadow of itself, following years of Lampert offloading real estate and other businesses, including its Lands' End clothing division and Craftsman tool brand. Sears Canada had suffered similar losses and shrinking revenue. And many of the trends dogging U.S. retailers -- a shift online and deep markdowns -- have plagued Canadian chains as well.
Key Difference
"To some degree, Sears is sort of a giant version of Sears Canada," said Noel Hebert, a Bloomberg Intelligence analyst.
The key difference, he said, is Lampert has been more willing to keep financing Sears Holdings. "One has had sort of free access to Eddie's checkbook; the other has not," Hebert said.

Lampert has poured more than $1 billion into Sears Holdings, including a $500 million loan facility and letters of credit worth as much as $500 million more. That business is aggressively pursuing a turnaround, with plans to cut costs by $1.25 billion a year. It showed signs of progress last quarter, when efforts to sell assets and raise cash brought its first profit since 2015.
Still, the company would have posted a loss when excluding one-time items. And sales continued to tumble.
"'Brick and mortar' retailers are facing industry headwinds -- and ours and others are not immune," Howard Riefs, a spokesman for Hoffman Estates, Illinois-based Sears Holdings, said in an email Thursday. "That is why we've taken steps to reduce costs and continue to execute against our transformation."
Sears Canada filed for creditor protection after a failed attempt to borrow additional funds. After a tough negotiating session with lenders, the company warned earlier this month that it probably didn't have enough money to pay its bills. At the time, Sears Canada said it was considering a possible sale of the business. But no buyer has emerged.
As part of the proceedings announced Thursday, Toronto-based Sears Canada is closing about 60 stores and cutting 2,900 jobs.
Top Investor
Though Sears Canada operates as a separate company -- with its own board and balance sheet -- it's still linked to its former parent. Lampert is the largest investor, with about 45 percent of Sears Canada's stock as of April 25. Sears Holdings, meanwhile, owned about 12 percent -- though that was down from 95 percent in 2012.
Sears opened its first Canadian store in Toronto in 1953, part of a joint venture with Robert Simpson Co. called Simpsons-Sears. The company changed its name to Sears Canada in 1984.
Sears Canada isn't the first bankruptcy on Lampert's watch.
In 2011, he announced plans to spin off the Orchard Supply Hardware chain, which Sears had purchased 15 years earlier. Lampert distributed the shares to Sears Holding investors and retained about 40 percent. Less than two years later, Orchard filed for bankruptcy and was acquired by Lowe's Cos.
But the retail climate is much harsher now, with more than a dozen bankruptcies among U.S. merchants this year. And the decline of Canada doesn't point to good things for Sears, Hebert said.
"How did Rome fall?" Hebert said. "It started with the farther-flung provinces. Orchard Supply, Sears Canada, while divested from Holdings, were still part of Mr. Lampert's empire when they succumbed."
— With assistance by Emma Orr, and Scott Deveau
Before it's here, it's on the Bloomberg Terminal.
LEARN MORE