markets
Sears Canada, Low on Cash, Seeks Protection From Creditors
By , , and
Retailer confronts e-commerce erosion of customers and sales

Company hopes to complete reorganization as soon as this year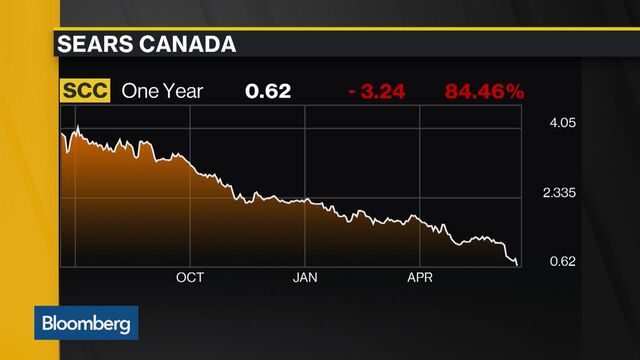 Sears Canada Inc., the struggling offshoot of Sears Holdings Corp., filed for protection from creditors Thursday after running short on shoppers and cash.
The retailer is aiming to cut its debt load and get through court proceedings as soon as possible this year, Sears Canada said in a statement Thursday. The Ontario Superior Court of Justice granted an order under the Companies' Creditors Arrangement Act, known as the CCAA, which allows the company to stay in business while a recovery plan is worked out, according to a separate statement.
The order allowed Sears Canada to obtain debtor-in-possession financing of C$450 million ($340 million), according to the company, which said it's closing 20 full-line locations as well as 15 Sears Home Stores, 10 Sears Outlet and 14 Sears Hometown locations. About 2,900 jobs will be cut from the retail network and at the corporate head office in Toronto. The filing will likely lead to a liquidation, with the business sold off in pieces, Bloomberg previously reported.
The move is the most high-profile setback yet to the Sears retail empire overseen by billionaire hedge fund manager Eddie Lampert. Together with Sears Holdings, Lampert controlled the majority of shares in Sears Canada, a business that was once seen as a bright spot. But Canadians are increasingly shopping online, and department store traffic has suffered. The company also has had to contend with local competitors such as Canadian Tire Corp. and Hudson's Bay Co.
Deteriorating Finances
Sears Canada is "facing a looming liquidity crisis and will be unable to meet their obligations as they become due without court protection," the company said in a court filing reviewed by Bloomberg. Financial performance "continues to deteriorate despite the implementation of strategic initiatives," according to the filing. A spokesman didn't immediately respond to a message seeking further comment.
The company hired BMO Capital Markets as financial adviser, and Osler, Hoskin & Harcourt LLP for legal advice. The board retained Bennett Jones LLP as legal adviser. FTI Consulting Canada Inc. was named as monitor in the CCAA proceedings.
"They were trying to look for a buyer, which was a public cry for help," said Jean Rickli, senior adviser at J.C. Williams Group, a retail advisory firm in Montreal. "But it's pretty difficult for us to identify who would buy it." The most valuable assets include long-term leases that could be paying about C$2 or C$3 a foot, Rickli said.
Some of the biggest U.S. retailers haven't fared well in Canada. Target Corp.'s Canadian operations sought CCAA protection in 2015, less than two years after the Minneapolis-based chain first opened stores in the country, putting an end to a mismanaged expansion that racked up billions in losses. Wal-Mart Stores Inc. and Costco Wholesale Corp. suffered missteps entering Canada as well, though they remain in the country.
Sears Canada's plight worsened after it attempted to borrow as much as $175 million, using its real estate as collateral. After negotiations with lenders faltered, the company said last week that it only expected to get $109 million before transaction fees. With few other quick sources of cash available, the conditions "raise significant doubt as to the company's ability to continue as a going concern," it said at the time.
"If you're a retailer that's stuck in the '70s, '80s or '90s, you're not necessarily going to make it through," Rickli said, adding that the chain needs to focus on younger millennial and Gen X consumers. "'You have to refresh the brand."
The U.S. version remains in a dire state as well. Once the nation's biggest retailer, Sears has been shuttering stores amid a broader department store slump. Lampert, who is chairman, chief executive officer and the largest shareholder, has injected more than $1 billion to bolster the company.
— With assistance by Allison McNeely
(
Updates with consultant's comments in the seventh paragraph.
)
Before it's here, it's on the Bloomberg Terminal.
LEARN MORE