Sears Canada Plunges After Voicing Doubts About Its Future
By and
Company hires advisers to consider sale or restructuring

Separately, U.S. counterpart announces plan to cut 400 jobs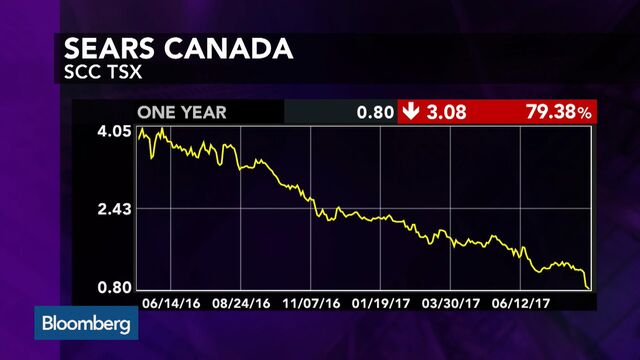 Sears Canada Inc. suffered its worst stock decline ever after acknowledging "significant doubt" about its ability to keep operating, leading the troubled department-store chain to consider a sale or restructuring.
Based on management's current outlook, cash flow won't be enough to meet obligations over the next year, the Toronto-based chain said on Tuesday. As it evaluates options, including a possible sale, the retailer has hired BMO Capital Markets as a financial adviser and brought on Osler, Hoskin & Harcourt LLP for legal help.
The admission sent shares tumbling as much as 56 percent to 50 cents, bringing them to a record low.
The company follows its U.S. counterpart in delivering the so-called going-concern notice, raising fresh doubts about the once-dominant Sears empire. Sears Holdings Corp., which remains an investor in its Canadian offshoot, said in March that weak earnings had put a cloud over its ability to stay afloat.
Sears Holdings is aiming to slash annual expenses by $1.25 billion. As part of that effort, the Hoffman Estates, Illinois-based company announced plans Tuesday to cut about 400 full-time jobs at its corporate offices and support operations.

At Sears Canada, a board committee of independent directors will set about mulling the department-store chain's next steps.
The company's current plight stems from a shortfall in a plan to borrow as much as $175 million, using real estate as collateral. After negotiations with lenders faltered, Sears Canada now only expects to get $109 million before transaction fees. With few other quick sources of cash available, the conditions "raise significant doubt as to the company's ability to continue as a going concern," according to Tuesday's statement.
Sears Canada postponed its annual meeting, which had been slated for Wednesday.
Deeper Loss
The company also posted a first-quarter loss C$1.42 ($1.07) a share in the period, compared with a 62-cent deficit a year earlier. Sales fell 15 percent to C$505 million in the period, which ended April 29.
With locations in malls across Canada, the retailer is linked to some of the country's largest real estate firms.
RioCan Real Estate Investment Trust, Canada's largest landlord by market value, leases nine locations to Sears out of their more than 300 retail properties across the country, including a strip mall in Calgary, Alberta and a shopping center in Winnipeg, Manitoba. The struggling retailer comprises 0.6 percent of RioCan's rental revenue, financial documents show.
H&R REIT, the country's second-largest REIT, leases space via its Primaris subsidiary to at least eight Sears stores out of the Toronto-based firm's 156 retail properties, according to its most recent investor presentation.
Morguard REIT is transitioning some of its properties to other retailers, including a mall in Red Deer Alberta that was once anchored by Sears and it now being refurbished as a fitness center.
— With assistance by Lauren Coleman-Lochner
Before it's here, it's on the Bloomberg Terminal.
LEARN MORE