Geographical Survey
These Three Maps Explain the Trump and Clinton New York Blowouts
Trump lost only a single congressional district, while Clinton's Big Apple win offset losses upstate.
Tuesday night's New York primary not only ended a multi-state losing streak for current front-runners Donald Trump and Hillary Clinton, who won roughly 60 percent of the vote each, but also moved them an important step closer to the general election.
The only blemish on an otherwise perfect evening for Trump was that he left a few delegates on the table. According to the rules of the New York Republican primary, to win the entire slate of delegates, a candidate has to win at least 50 percent of the overall vote (which Trump did) as well as 50 percent in each of the state's 27 congressional districts (which Trump did not). In the end, the Manhattan billionaire fell short in four districts—CD-10, CD-12, CD-20, and CD-24—costing him a handful of delegates.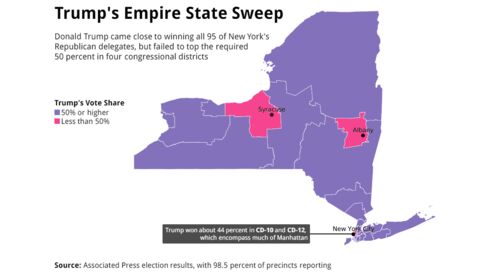 In the first two districts, which cover most of Manhattan as well as parts of Brooklyn and Queens, Trump earned his lowest vote share statewide, around 44 percent. That put him just 70 votes shy of Ohio Governor John Kasich in CD-12 (out of 16,400 total votes cast), handing Trump his only actual loss in New York. That win plus Kasich's relatively strong second-place finishes in the other three contested districts means the governor won at least four delegates, according to the Associated Press.
Texas Senator Ted Cruz, meanwhile, garnered less than 15 percent of the vote statewide, and did not receive a single delegate. Notwithstanding double-digit vote shares in upstate New York, Cruz's strongest showings were actually in New York City, where he came in second in CD-9 (located in Brooklyn) and CD-15 (in the Bronx) with nearly one quarter of the votes. Not far away, on Long Island, Cruz failed to crack 10 percent.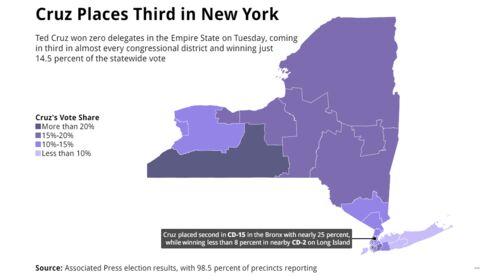 Over on the Democratic side, Hillary Clinton won by a larger margin than was predicted by recent polls, thanks in part to her outsize victories in and around New York City. In Westchester County, where the former secretary of state and New York senator lives, Clinton won by nearly 35 points. She did even better in the Bronx (40 points), with similarly impressive margins in Manhattan (33 points) and Queens (23 points). In Brooklyn, where her campaign is headquartered—and where rival Bernie Sanders was born—she won by nearly 20 points. In all, she had more than 275,000 more votes than Sanders in these areas, nearly her entire statewide margin.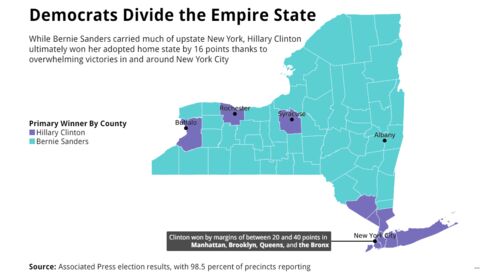 The only possible consolation for the Vermont senator is that, unlike the Republicans, the Democrats allocate their delegates proportionally. This means he ultimately added 106 delegates to his total on Tuesday night, according to the Associated Press latest tally, compared to Clinton's 139-delegate haul.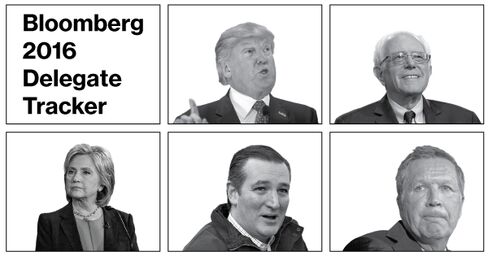 Before it's here, it's on the Bloomberg Terminal.
LEARN MORE