Main Event
Clinton Campaign Moving Past New York to Gear Up for General Election
The campaign looks to build staff in battleground states and get voter drives underway.
Hillary Clinton's campaign is moving rapidly to set up the infrastructure she'll need for the general election, a process that will unfold mostly behind the scenes over the next seven weeks as the final Democratic primary votes are cast.
Clinton's overwhelming victory Tuesday in New York—and Donald Trump's dominating win in the state's Republican contest—add to the campaign's imperative to start looking beyond the nomination race to get ready for one of the most unpredictable general-election seasons in modern history.
"In terms of a tactical, mechanical matter, we are preparing for a general election," Clinton communications director Jennifer Palmieri said Tuesday night. "However hard it is is however hard it is."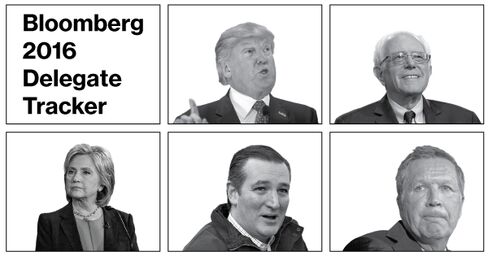 The campaign is at a stage where senior staff members are zeroing on the contest against the eventual Republican nominee, whether Trump or someone else. That means determining the size of paid and volunteer staff in battleground states, and setting voter registration and turnout targets. In addition, the campaign needs to coordinate early- and absentee-voting drives to ensure Clinton's voters show up at the polls, according to interviews with people inside the operation and others experienced with waging a national campaign.
Campaign manager Robby Mook declined to outline specific steps underway but said, "There's a dozen or more states that we've got to get ramped up in. This stuff just takes time."
The Clinton campaign was, from its start, built for the general election. She and her team, though, have stepped carefully to keep from alienating primary rival Bernie Sanders and his supporters by appearing dismissive of his candidacy and to avoid the overconfidence that led them to underestimate then-Senator Barack Obama in 2008. Even though Sanders hasn't been as formidable an opponent as Obama, he's mounted a serious challenge for the nomination and the campaign, in the candidate's words, doesn't want to "count any chickens before they hatch."
Privately there's always been a recognition that preparing for Nov. 8, 2016, wasn't just an abstraction or a possibility but an eventuality. Mook was hired not just to manage a staff of hundreds moving from state to state but to lead an army of thousands across the country.
The next big contests come on April 26, when Pennsylvania, Connecticut, Maryland, Delaware, and Rhode Island all hold primaries. On the heels of Clinton's decisive victory in New York, a sweep of those states would make it nearly impossible for Sanders to overcome her lead in delegates needed to secure the Democratic nomination.
In her victory speech in midtown Manhattan Tuesday night, Clinton signaled she's already turning to the general election, saying that as far as the nomination race she's "in the home stretch and victory is in sight." Sanders only got a mention by way of an appeal to his supporters, while Trump and his main Republican competitor, Texas Senator Ted Cruz, came in for extended criticism.
"We're going to go up against some powerful forces that will do, say, and spend whatever it takes to stop us," she said. "The motto of this state is excelsior, ever upward. So let's go out and win this election."
The New York vote "was make-or-break" for Sanders, said Joe Trippi, a Democratic consultant who advised numerous presidential campaigns. "On the 26th, that's going to start slamming the door on him.''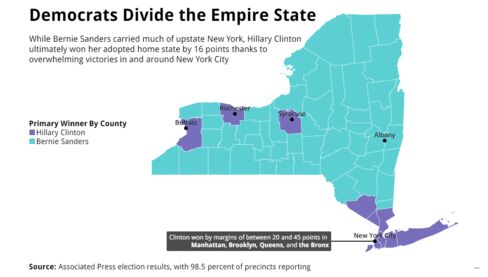 Among the first tasks for Clinton's aides will be hiring. The campaign now has less than 1,000 staff members spread around the country. By comparison, Obama had about 4,000 full-time paid campaign staff for his 2012 re-election campaign.
Lynda Tran, a former national press secretary for Organizing for America, an offshoot of Obama's political campaign, said Clinton's aides likely are identifying and contacting key personnel "in a non-conspicuous way" in key locations.
The campaign knows "the dozen or so battleground states she's going to need to really invest in and compete in," Tran said. "Who are the pivotal people in those states? I have no doubt that's what they are doing right now in Ohio, Florida, Pennsylvania."
Each state has different considerations.
In Florida, for example, Clinton will be confronting a smaller base. The margin between registered Democrats and Republicans has shrunk significantly since the 2008 election, from a cushion of nearly 700,000 in 2008 to about 260,000 as of March, reflecting rising Republican and unaffiliated registrations.
Florida also is a true swing state, and Trump, if he's the Republican nominee, has longtime ties there. Clinton will be relying a strong network of donors and political alliances and growing numbers of minority voters in the Orlando area in South Florida who could boost her results if they are registered and turned out.
"The sooner she is able to pivot from just rhetorically to where she is putting resources in the state, the better," said Steve Schale, a Democratic strategist who was state director for Obama's 2008 general-election campaign in Florida and who was involved in an effort to draft Vice President Joe Biden to run this year.
He said Clinton will need to start her Florida field operation with 250 to 300 people to be effective, focusing both on maximizing registration and turnout in Orlando and Dade and Broward counties and minimizing Republicans' advantages in North Florida, in centers such as Jacksonville. "It's all about managing margins everywhere," he said.
In Iowa, it's about organizing for early voting, which begins in September.
"Now is the time to sort of set goals for how many new registrations we want to set up, setting targets for how many voters we want to set for early voting through absentee ballots, all of that should be happening now and I think it is happening," said Jeff Link, an Iowa Democratic strategist who was Obama's national deputy director of paid media and research.
Until 2014, Democrats used the state's early voting option far more than Republicans, Link said. In those midterm elections Republicans greatly stepped up efforts to get their voters to cast early ballots and it changed the dynamic. Iowa voted for Obama in the general election in 2008 and 2012. This year could be tougher for Clinton, who has not had the same bond with Iowa caucus-goers, making the early vote even more important. "We have to redouble our efforts and be smarter about it," Link said.
Link said he hasn't seen evidence yet of Clinton putting general-election staff into his state, though there still is plenty of time. The "clock really starts ticking" after Iowa holds a primary for state and federal offices other than president on June 7.
At that point, he said, the presumptive presidential nominee will benefit from a coordinated campaign that will combine efforts of the Iowa Democratic Party, Democratic National Committee, state legislative and congressional campaigns. "After our primary, we will be able to get all of the federal races aligned with Clinton, and the local races, and we'll be able to execute an effective coordinated campaign," he said.
Gabby Seay, Obama's 2012 political director in Ohio, said the Ohio Democratic Party maintains its infrastructure so robustly between elections that "the infrastructure never really leaves" and "there are hundreds of organizers already across the state" who will support whoever the Democratic nominee is.
As Ohio cities face declining populations, persuasion may be as or more important than registration between now and November. Clinton is "going to have a lot of work to do in making sure folks understand her record," Seay said.
That may include outreach to organized labor and assuaging concerns about her record on trade while tying her to Obama's successes with policies affecting auto industry and health coverage. "I think that is where she will win, so establishing that is crucial."
Before it's here, it's on the Bloomberg Terminal.
LEARN MORE