Clinton-Sanders New York Primary Race Runs Through Wall Street
Thursday night's Brooklyn debate comes as candidates tussle over dealing with financial industry.
For Hillary Clinton and Bernie Sanders, the campaign for the New York primary was inevitably going to run through Wall Street.
The two Democratic presidential candidates will debate Thursday night in Brooklyn, their first face-to-face encounter since the race took a sharply negative tone triggered by remarks Sanders made about his plan for breaking up big banks and regulating the financial industry.
While they've tussled over energy policy, immigration, and gun control, it's the back-and-forth over Wall Street that has been most persistent through weeks of campaigning in the state. Both Clinton, the former secretary of state, and Sanders, a Vermont senator, say they'll have the edge when New York Democrats vote in next Tuesday's primary.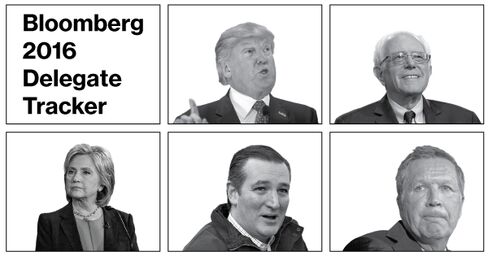 The two candidates have plenty of fodder for debate in a state where the finance and insurance industries represent 16 percent of the $1.3 trillion economy. The issue gained new currency on Wednesday when federal regulators said five major U.S. banks don't have adequate contingency plans for how they could go bankrupt without disrupting the U.S. financial system, as required under the Dodd-Frank regulatory overhaul enacted after the 2008 financial crisis.
Clinton said federal regulators may need to consider breaking apart big banks if they can't adequately address the issue.
"It's high time for the banks to live up to their obligations under the law," Clinton said of JPMorgan Chase & Co., Bank of America Corp., Wells Fargo & Co., Bank of New York Mellon Corp. and State Street Corp., which were cited by the Federal Reserve and Federal Deposit Insurance Corporation. "And if these banks don't fix their problems over time, then regulators need to break them apart."
Clinton's Criticism
It's rhetoric that echoes some of Sanders' language on the financial industry, even as Clinton has criticized the senator's focus on big banks as too narrow.
Earlier in the week, Sanders focused on the announcement that Goldman Sachs Group Inc. will pay $5.1 billion to resolve U.S. allegations that it failed to properly vet mortgage-backed securities before selling them to investors as high-quality debt.
He called the settlement "the latest evidence that the business model on Wall Street is fraud" and said that bankers failing to be prosecuted is an example of "the corruption of our criminal justice system."
Sanders' proposals have attracted particular scrutiny, in part because of the Clinton campaign's efforts to draw attention to his interview with the New York Daily News editorial board in which he was asked how he would go about breaking up banking institutions, a central part of his campaign message.
Sanders that he would either "have legislation passed" or give the Treasury secretary the authority to "determine, under Dodd-Frank, that these banks are a danger to the economy."
Clinton has repeatedly gone back to his answers in that interview, which took place almost two weeks ago, as evidence of an argument she's made for months: that there's little substance to back up his rhetoric.
Sanders in turn said Clinton isn't qualified to be president because of her reliance on funds from interest groups, among other reasons. Though he later retracted his questioning of her qualifications, Sanders has challenged Clinton on what his campaign called her "credibility gap" in discussing the issue because of her connections to big-money donors and her paid speeches to institutions such as Goldman Sachs.
For New Yorkers whose livelihoods rely on the financial sector, Sanders' rhetoric could but off-putting. But for voters who bore the brunt of the 2008 economic downturn, his message could be just as attractive as it was in other states. That's because New York is more than Wall Street, according to Democratic strategist Hank Sheinkopf, who isn't aligned with either campaign.
"The attacks have plenty of relevance to people in the city who feel abandoned," Sheinkopf said. "People upstate have a particular bias against downstate and Wall Street is the exemplar of what they don't like about downstate."
Roy C. Smith, a finance professor at the New York University Stern School of Business and a former Goldman Sachs partner who started on Wall Street in 1966, said the attacks on the financial industry by Sanders aren't a surprise. Clinton's statements are drawing more attention as Sanders causes her to take more liberal stances.
"Bernie has said this stuff for so long, so we're not really surprised by him," he said. "Now Hillary is starting to say it. She has been increasing her rhetoric on the capital markets sector, which is making some people who are in it uncomfortable and squirming a little."
Those issues are likely to bring about some of the most contentious moments of Thursday's debate at the Brooklyn Navy Yard. The New York primary has taken on additional importance for both candidates following a string of Sanders victories in eight of the last nine Democratic contests since March 22.
Clinton has maintained a commanding lead in delegates needed to claim the Democratic presidential nomination. She has 1,758 of the 2,383 needed to be the nominee, according to an Associated Press tally that includes superdelegates, who aren't bound by caucus or primary results. Sanders has 1,069.
Clinton is looking to the New York primary and a slate of five northeast primaries the following week to win the nomination, though Sanders has been raising enough money to carry his campaign into the Democratic National Convention in July.
—With assistance from Margaret Talev, Arit John, and Jennifer Surane.
Before it's here, it's on the Bloomberg Terminal.
LEARN MORE