The Wisconsin Primary Wasn't All Bad News for Hillary Clinton
She actually improved her overall vote share compared to 2008 and kept the delegate math on her side.
Vermont Senator Bernie Sanders won big in Wisconsin on Tuesday, beating Hillary Clinton by a larger-than-expected 13.5-percentage point margin and carrying 71 of the state's 72 counties. Yet there's a thin silver lining in the results for the former secretary of state, who now focuses her attention on the April 19 primary in New York, the state she served for eight years as U.S. senator.
Compared to 2008, Clinton actually managed to increase her overall share of the Wisconsin primary vote, from 41 percent to 43 percent. This was partly thanks to a lower turnout than eight years ago—nearly 110,000 fewer Badger State voters came out to the polls on the Democratic side, to be exact—with Sanders ultimately winning roughly 79,000 fewer votes than then-candidate Barack Obama did. Clinton, meanwhile, came within about 21,000 votes of her 2008 total.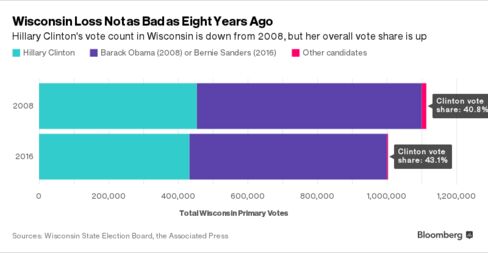 Clinton's particular bright spot was Milwaukee County, the only Wisconsin county she won and home to the state's largest city. Clinton's share of the vote there rose from just 35 percent in 2008 to 52 percent, her greatest improvement statewide. She also made gains in Dane County, home to the state's progressive capital city of Madison, increasing her vote share from 31 percent to 37 percent.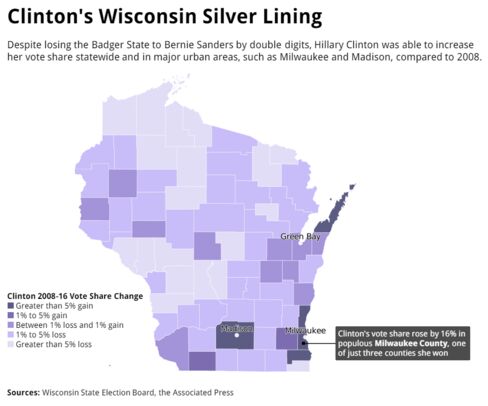 Tuesday's results mean Clinton ultimately split the state's delegates 43-57 with Sanders, who will net about 11 of the assigned delegates, according to the Associated Press' latest count. That leaves him roughly 250 pledged delegates behind Clinton, who, despite her loss in Wisconsin, remains the front-runner.
Before it's here, it's on the Bloomberg Terminal.
LEARN MORE