G-20 Central Bankers in China Seek Alternatives to Currency War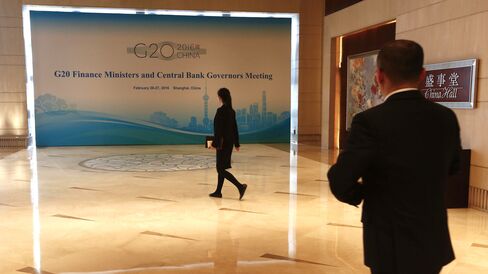 China, Japan, Europe ease as Latin American nations tighten

Negative interest rates complicate central bankers' challenges
Officials from the world's largest economies gathering in Shanghai this week will need to reconcile diverging monetary policies with calls for increased fiscal support -- all the while avoiding a currency war that few can afford.
While Group of 20 meetings have habitually agreed on the need to refrain from competitive devaluations, that objective has taken on new importance as China struggles to manage its slowdown with the risk of another currency devaluation lurking.
Further raising the stakes are negative interest rates in economies from Japan to the euro area that account for about a quarter of global output. That means officials at the Feb. 26-27 meeting have even less monetary leeway to deal with disinflationary pressures than in past years, fueling calls for greater fiscal oomph, something that may prove difficult to make reality.
"A lot of people have been wanting to see increased global coordination coming from the G-20 given that central banks in the Western world at least seem to be approaching some kind of limit to monetary policy," said Martin Enlund, chief analyst at Nordea Markets in Stockholm. More clarity from China on its strategy to support growth "would be very helpful for the rest of the world."
Better Communication
Since the People's Bank of China's surprise devaluation of the yuan in August, economic leaders including International Monetary Fund Managing Director Christine Lagarde and U.S. Treasury Secretary Jacob J. Lew have called for better communication.
There's evidence that China is listening. PBOC Governor Zhou Xiaochuan recently ended months of silence, saying in an interview there's little reason to think the yuan should depreciate further. He'll have another forum to assuage concerns about the yuan Friday, when he's scheduled to give a speech, then hold a press briefing on the sidelines of the G-20 meeting.
Though the gathering looks like an ideal forum to avoid monetary policy conflicts, central banks have mandates to make policy based on domestic factors. The G-20's currency pledges have meant little when, for example, the threat of euro-area deflation required interest-rate cuts and the commencement of an asset-purchase program last year.
Fed, China
The Federal Reserve's decisions on whether to build on December's interest-rate increase, the first in almost a decade, have been complicated by the global market gyrations. Fed Chair Janet Yellen said this month it wasn't the U.S. central bank's policy shift that was driving market volatility, but rather the slump in oil prices and uncertainty about China.
"When central banks look like they're coordinating, but really they're just doing what they would have done anyway, that's what I'd call weak coordination," said Paul Sheard, chief global economist at Standard & Poor's in New York. "To say, 'I'm not going to cut interest rates unless you cut interest rates' -- that's much more unusual and hard to engineer."
Latin America
While China, Japan and the euro area are easing and weighing additional stimulus, other economies such as Latin American commodity exporters are having to tighten policy. Mexico, Colombia and Peru have all raised their benchmark rates this month as currencies weakening in response to the stronger dollar stoke inflation across the region.
Brazil, whose former Finance Minister Guido Mantega used the term "currency war" to describe advanced economies' use of monetary policy to help boost exports, is holding onto the highest interest rate in almost a decade, even during a recession.
If central bankers from advanced economies get their way, they'll use the Shanghai meetings to try to push the onus firmly on politicians to help keep global growth going. The IMF downgraded its forecast in January for 2016 world expansion, to 3.4 percent from 3.6 percent. Both the fund and the Organization for Economic Cooperation and Development have called for a more robust fiscal policy.
Achieving such policies will be easier said than done. China is reluctant to make its surging debt burden grow even faster, the U.S. agreed on a two-year spending plan in late 2015 and Germany's goal of a balanced budget this year is already endangered by the costs of the refugee crisis.
"The world economy needs to be rebooted by a combination of fiscal-led demand stimulation and structural reforms," said Steven Barrow, head of G-10 strategy at Standard Bank in London. With more spending support unlikely in many countries, "that leaves financial markets at risk and monetary policy over-burdened," he said.
Before it's here, it's on the Bloomberg Terminal.
LEARN MORE