Reinforcements
George W. Bush Could Be Key to Stopping Donald Trump, Republican Says
Former South Carolina Republican Chairman Katon Dawson says the former president should get out on the trail—and not just for his brother's sake.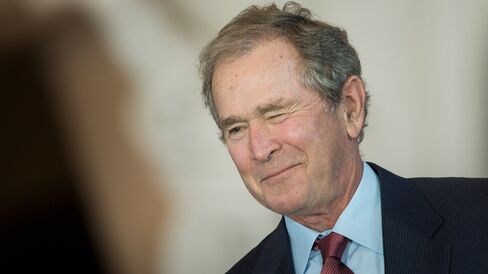 For much of the 2016 Republican primary, conventional wisdom has had it that former president George W. Bush is something of a liability to his brother Jeb's struggling campaign.
But for at least one top Republican in South Carolina—the state that holds the American South's premier presidential nominating contest and only early state that has never dealt a primary defeat to a member of the Bush family–the 43rd president could be the party establishment's answer to stop front-runner Donald Trump in his tracks.
"The game changer is: Will 43 engage?" Katon Dawson, a former chairman of the South Carolina Republican Party, said in an interview about the former president, who was the nation's 43rd commander-in-chief. "If 43 engages, it will matter for his brother, but, really, it will matter for the entire team."
Dawson, who was the South Carolina chairman of the former president's re-election campaign in 2004, said it wasn't clear what the "boomerang effect" would be for Jeb Bush if his brother joined the campaign, but guessed the younger brother would be helped, particularly in South Carolina. "I know what 43's poll numbers are in South Carolina. And they're good," Dawson said. "Really good. Jeb's numbers, not so good. But 43's is."
But for Dawson, the biggest reason for George W. Bush to wade into the race is to take down Trump, whose rise has confounded the party's traditional pro-business base. "If he engages, and Trump comes after 43? You gotta know who 43 is to know that you can punch him once, but you won't punch his ass twice," Dawson said.
So far, the questions about the last Republican president have focused on whether he could help his brother become the third member of the family to win the party's presidential nomination. They surfaced again this week as another former president, Bill Clinton, hit the campaign trail on behalf of his wife, Democratic presidential contender Hillary Clinton.
"A lot of people say, you know, your brother also has a lot of popularity: Like Bill Clinton has with Democrats, your brother has it with Republicans," Fox & Friends' Brian Kilmeade told Jeb Bush on Tuesday, as the former governor nodded in agreement. "If he could tell your story as well as you can, if not better, is that something you are considering?"
"Yeah, it is something to consider, because he is very popular," Bush said, opening the door to the possibility slightly more than he has in the past.
The possibility of pulling the former president onto the trail is a thorny one for his younger brother, a candidate who has struggled to simultaneously embrace and separate himself from the family legacy that includes President George W. Bush; his (and Jeb's) father, President George H. W. Bush; and grandfather, Senator Prescott Bush of Connecticut.
The latest polls in South Carolina show Bush hovering around 10 percent, putting him well behind Trump and U.S. Senator Ted Cruz, but in the conversation of the next tier of candidates, which includes U.S. Senator Marco Rubio and retired neurosurgeon Ben Carson. The polling math regarding former President Bush makes for complicated politics for his brother, who has vowed to run a primary campaign that wouldn't damage his viability in a general election race.
A Bloomberg Politics national poll taken in November shows that the popularity of former President George W. Bush, a record-low when he left office in 2009, remains underwater with the public at large: He got a 45 percent favorable to 50 percent unfavorable rating. But when only Republicans are asked, the picture is starkly different: 77 percent of members of his own party give the former president a favorable rating, making him the most popular Republican in the survey.
While the second President Bush's persistent upside-down favorability ratings with the public at large suggest his brother is smart to distance himself, the Republican numbers suggest that in the current primary season, when Jeb has struggled to create excitement, his brother would be an indispensable surrogate.
"He's an asset," Mike Murphy, a longtime Bush confidant who is running a super-PAC supporting the candidate, said about George W. Bush in an October interview with Bloomberg Politics. "I'm hoping to see him on the campaign trail."
Dawson emphatically agrees. "Republicans don't have a Bill Clinton. We've been in dire need of one. The only one we've got is W," he said. "He hasn't engaged in anything since he's left office, unlike Bill Clinton, who's been engaged from day one."
The South Carolinian's anticipation of a Trump-big brother Bush brawl is premised on the fact that Jeb Bush has been one of Trump's most frequent targets of ridicule. Dawson's clearly hoping that will rouse the ex-president from his political somnolence.
"Anyone that knows the Bushes knows this is a competitive bunch of people," Dawson said. "They're loyal and competitive. If 43 comes off the ranch, it very well could change the race."
Before it's here, it's on the Bloomberg Terminal.
LEARN MORE