Why Donald Trump and Jeb Bush Are Fighting About 9/11
Fourteen years later, both Republicans seem to believe re-litigating the attacks benefits them in the presidential primary.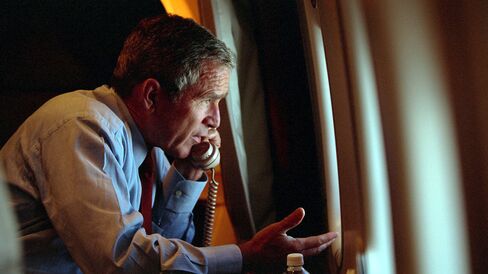 If Republican presidential front-runner Donald Trump wanted to bait Jeb Bush into spending the weekend defending his brother over the Sept. 11, 2001, terrorist attacks, the former Florida governor was happy to engage.
The result was an intense brawl between the establishment favorite and the "outsider" front-runner that played out on the Sunday shows.
"Look, Jeb said we were safe with my brother—we were safe. Well, the World Trade Center just fell down. Now, am I trying to blame him? I'm not blaming anybody," Trump said on Fox News Sunday. "But the World Trade Center came down. So when he said, we were safe, that's not safe. We lost 3,000 people, it was one of the greatest—probably the greatest catastrophe ever in this country if you think about it."
Meanwhile on CNN's State of the Union, Bush defended his brother, saying he "united the country" after the attacks.
"I don't know why he keeps bringing this up," Bush said. "It doesn't show that he's a serious person as it relates to being commander in chief and being the architect of a foreign policy. Across the spectrum of foreign policy, Mr. Trump talks about things that—as though he's still on The Apprentice."
Trump and Bush believe the debate about the 9/11 attacks will play to their political advantage, according to people close to both of them.
Trump's motivation is threefold, confidants say. His philosophy is to never back down from a fight because his brand is "strong" and "tough." He wants to send a signal to other candidates that there is a price to pay for hitting him. Trump may not give Bush much respect in public, but privately he considers Bush's super-PAC money one of the remaining threats to his nomination.
Bush is hoping the 9/11 debate highlights what people close to him believe to be the businessman's Achilles heel: the credibility required to become commander-in-chief. Having fallen in the polls, the former Florida governor also wants to emerge as the establishment's choice to stop Trump, since that might be his only hope of coming back. Currently, the biggest threat to Bush in coalescing establishment support is Senator Marco Rubio, against whom he's fighting a second front. Bush places fifth in two recent polls while Rubio is fourth.
Republicans overwhelmingly defend President Bush's handling of the immediate aftermath of 9/11, and Trump's weakest moments in the campaign have arisen when he's forced to discuss foreign policy and national security, as Bush's campaign highlighted in a recent video. Republican and Republican-leaning voters rank terrorism and foreign policy as important issues, according to a recent Pew poll.
On the other hand, the skirmish has resurrected a larger debate about whether President Bush did all that he could in the run-up to the attacks and how he responded, including in the now-unpopular decision to invade Iraq. Talking up the 9/11 attacks also ties Bush's candidacy even closer to his brother, who left office extremely unpopular and remains a pariah with the conservative base.
The latest skirmish over 9/11 began Friday, when the Trump went on Bloomberg TV to belatedly responded to Bush's applause line one month earlier at the presidential debate that President George W. Bush "kept us safe."
"When you talk about George Bush, say what you want, the World Trade Center came down during his time," Trump told host Stephanie Ruhle.
Bush responded swiftly, and Trump struck again.
https://twitter.com/JebBush/status/655098096649707520
https://twitter.com/realDonaldTrump/status/655188360449925120
After Trump's comments Sunday morning, Jeb Bush fired off a fundraising e-mail under the subject line "Help defend my brother," which asked for a $5 donation. "After 9/11," Jeb Bush wrote, "my brother rallied the nation, calmed our fears and kept us safe."
Trump repeated his criticism again on Monday morning to CNN, and, hours later, directed his followers to 2012 op-ed in the New York Times by Kurt Eichenwald, who highlighted a now-famous daily brief that President Bush received on Aug. 6, 2001, titled "Bin Laden Determined to Strike in U.S."
https://twitter.com/realDonaldTrump/status/656166351334150146
—Mark Halperin contributed reporting.
Before it's here, it's on the Bloomberg Terminal.
LEARN MORE