Sanders Says He's Long Held Positions That Clinton's Now Adopting
The Democratic presidential candidate says voters should contrast his "consistency" with Clinton's.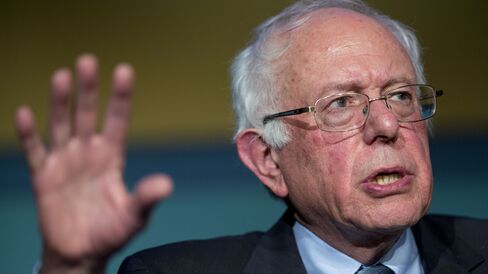 Senator Bernie Sanders said voters should compare his longtime positions with the newly minted ones of rival Democratic presidential candidate Hillary Clinton.
"People will have to contrast my consistency and my willingness to stand up to Wall Street and corporations, big corporations, with the secretary," Sanders said in an interview airing Sunday on on NBC's Meet the Press.
Two days before Sanders and Clinton will appear on the same stage in the first Democratic presidential debate, Sanders suggested the former secretary of state was a latecomer on issues including pushing for tougher financial regulation and opposing trade deals and the Keystone XL pipeline.
"I happen to respect and like Hillary Clinton, so I don't get into personal attacks," he said, according to an NBC transcript. "But are there differences of opinion that should be discussed? Of course, there are. That's what that election is about."
Clinton called last week for cracking down on what she portrayed as Wall Street excesses, with proposals including a tax on some types of high-frequency trading and strengthening the Volcker Rule to limit some forms of speculative investments.
Sanders also suggested that as president he wouldn't implement the Trans-Pacific Partnership, a 12-nation trade deal that Clinton supported as secretary of state but recently said she opposed.
Asked if the next president could block "full implementation" of an agreement even if it receives congressional approval, Sanders didn't offer specifics.
"I don't know," the self-described socialist said. "I don't want to be definitive about it. But I am opposed."
The TPP is a centerpiece of the pivot to Asia that Clinton helped engineer when she was President Barack Obama's top diplomat. It's supported by Vice President Joe Biden, who may enter the Democratic presidential race as well, and opposed by labor unions that remain a major constituency in the party.
"From day one," Sanders said, he opposed the Keystone pipeline from Canada to the U.S. Gulf Coast "because I believe that if you're serious about climate change, you don't encourage the excavation and transportation of very dirty oil."
Sanders also said he supports "common-sense gun reform plus a revolution in mental health." Sanders, who represents a state with many hunting enthusiasts, voted in 1993 against the Brady bill, which mandated a five-day waiting period on gun purchases. He also voted in 2005 for legislation that protects gun makers and sellers from legal liability, a measure Clinton opposed.
Clinton has animated many Democrats with her promises to "fight for new, effective gun control measures," in the wake of an Oct. 1 mass shooting that left nine people dead at a community college in Oregon.
Before it's here, it's on the Bloomberg Terminal.
LEARN MORE