Jeb Bush Says Regulation Changes Can Lift Wages
In a new proposal, the Republican presidential candidate takes aim at Dodd-Frank and environmental regulations, while proposing a panel that would generate a list of other rules to erase.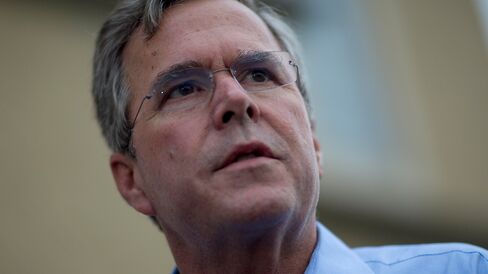 Saying the U.S. economy is "buried under the weight of rulebooks," Republican presidential candidate Jeb Bush on Tuesday proposed cutting federal regulations that he said would increase growth 3 percent in 10 years and help increase wages by 6 percent.
Bush's plan would freeze any remaining regulations proposed by the Obama administration, require regulatory costs to be offset during his first year in office, and push for legislation that would require Congress to approve major rules. He would push to repeal five regulations, including the Dodd-Frank Act approved after the 2008 financial crisis, according to his website.
The former Florida governor, who has dropped in the polls in recent months, has been unrolling a series of policy proposals that he says will separate himself from the more populist candidacy of billionaire Donald Trump, the current front-runner for the Republican presidential nomination.
"Regulation accumulates, like sediments in a harbor, building up over time, and ensuring that Americans must consult a rulebook or hire a lobbyist to accomplish basic tasks," said a Bush campaign summary of the proposed changes. The candidate will discuss the changes during a campaign event on Tuesday at a Gladbrook, Iowa farm run by former state Senator John Putney.
Bush has made 4 percent economic growth, a rate the country hasn't reached for two decades, the central thrust of his campaign. Earlier this month, Bush unveiled an overhaul of the U.S. tax code, estimated to cost $3.4 trillion over a decade, which he sees as the engine of his plan to double gross domestic product. Bush's campaign said regulations are an "invisible tax" and pointed to a report from Washington-based Competitive Enterprise Institute that showed federal rules cost the economy $1.9 trillion per year.
In addition to repealing Dodd-Frank, Bush said he'd also push to eliminate regulations on broadband Internet providers known as net neutrality, and three environmental rules, including one that defines which bodies of water can be regulated under the Clean Water Act. Bush would also cut President Obama's clean power plan, and abolish the recent attempt by the Environmental Protection Agency to regulate coal ash—the nation's second-largest industrial waste.
Amit Narang, a regulatory policy advocate at Public Citizen, a Washington-based nonprofit, called Bush's plan a "big business wish list" that "propagates the myth" that a strong economy can't exist without tough regulations.
"While each of Bush's proposals would be dangerous for working families, consumers and the public, their cumulative impact would amount to a virtual shutdown of the regulatory system," Narang said in a statement.
Bush's regulation plan, combined with his proposed tax changes, will help increase wages so that by 2020 a family of four earning $50,000 will have an after-tax income that is about $3,100 higher, according to a summary provided by the campaign. Bush's campaign also promised the changes would increase GDP by 3 percent in 10 years.
The campaign document highlighted regulation systems overseas, saying the United Kingdom operates a regulatory budget that requires regulators to eliminate two rules for every new rule added, and as a result has eliminated $3.4 billion in regulatory burdens since 2011. Bush also highlighted a commission in Australia that reviews regulations from the perspective of regulated industries.
Bush said his plan would make America one of the easiest places in the world to start a business. He promised an executive order that would block new regulations that don't address an "identifiable market or major policy failure" and avoid new rules in favor of "state-based solutions" wherever possible. He said he would create a Cabinet-level task force to implement his changes.
His administration would streamline the permitting process by cutting the "number of decision makers" and ensure that infrastructure projects are approved or rejected within two years, according to the plan.
Bush is vowing to nominate judges who would limit regulators' authority, and promising to promote legislation to "limit the deference courts give to agency interpretations of congressional enactments." His plan would limit settlement costs when federal agencies are sued by outside groups, a practice environmental groups support and Republicans deride as "sue and settle."
The campaign document criticized current regulations such as environmental protections for the northern spotted owl, which Bush said has done "much to decimate" the timber industry, and the "heavy-handed" 2010 Dodd-Frank law, which the former Florida governor said has hurt small banks.
"A few huge financial institutions sit securely at the top, insulated from competition by regulations that impose heavy compliance burdens on their smaller rivals" the Bush campaign document said about Dodd-Frank. "As a result, it has become increasingly difficult for Americans with less than perfect credit to access capital to start, upgrade, or expand businesses and pursue their ambitions."
Before it's here, it's on the Bloomberg Terminal.
LEARN MORE