How Team Bush Divides in Order to Conquer
As presidential candidates increasingly rely on outside groups, there's been a revolving door between campaigns and super-PACs.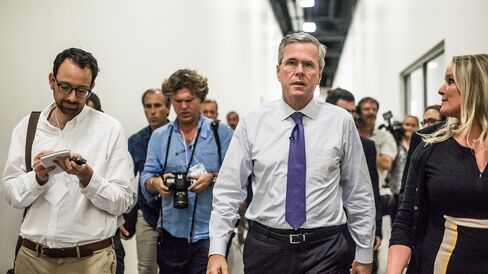 Jeb Bush is entering the next phase of the Republican presidential battle, and some of his closest allies are moving along with him.
On the campaign trail, Bush is attacking Donald Trump, the front-runner for the GOP nomination, using multiple languages to question the celebrity real estate mogul's conservative credentials. The super-PAC supporting Bush's bid, Right to Rise USA, is airing a $10 million, mostly positive TV advertising campaign introducing him to voters. A nonprofit group, Right to Rise Policy Solutions, has published a website with multiple position papers as Bush prepares to rollout proposals on tax policy and college debt.
This next chapter in the nomination race will require some careful stepping by Bush and the two outside groups, which are trying to aid the former Florida governor while complying with federal law that requires them to keep a distance.
The Right to Rise groups represent the latest evolution of a campaign phenomenon that dates back to the Supreme Court's 2010 Citizens United decision that struck down limits on corporate political spending. Writing big checks to help politicians wouldn't corrupt them as long as the money didn't go directly to their campaigns, the majority argued. "By definition, an independent expenditure is political speech presented to the electorate that is not coordinated with a candidate," Justice Anthony Kennedy wrote.
But "not coordinated" isn't clearly defined, and candidates have taken advantage of that. This year almost every presidential candidate in the field has at least one supporting super-PAC that's ostensibly acting independently of his or her campaign, though staffed in many cases by the candidates' long-time aides. Arguably, no one has taken advantage of this legal loophole more than Bush. The flow of consultants from the outside groups to the campaign and, in at least one instance, the sharing of staff, has created a series of interlocking relationships that illustrate how the best-funded Republican candidate is aggressively navigating the new world of campaign finance laws.
While there's no apparent legal violation, and the various pro-Bush entities have insisted they are in compliance with the law, the situation shows how difficult it can be to fence off outside groups, which can collect contributions in unlimited amounts. In the case of Right to Rise Policy Solutions, organized as a "social welfare" non-profit, donors never have to be disclosed.
"It shows the absurdity with which the campaign finance laws are being interpreted and enforced," said Larry Noble, senior counsel at the Campaign Legal Center, which accused Bush and other White House contenders earlier this year of violating campaign finance laws before they officially entered the presidential race.
The constellation of pro-Bush political organizations represents the culmination of what Barack Obama started as a candidate in 2008, and continued in 2012. By his 2012 re-election, both Obama and Republican nominee Mitt Romney were aided by super-PACs and non-profits.
The difference this year is that many of these outside groups were formed before the politicians officially became candidates. For Bush, this meant creating his own political operation for the first time since his 2002 campaign for re-election as Florida's governor.
His official campaign announcement this summer helped trigger a series of previously unreported personnel moves:
* Bill Simon: The former chief executive officer for Wal-Mart Stores, Inc.'s U.S. operations formed Right to Rise Policy Solutions this year in Arkansas. Simon, who served as secretary of the Florida Department of Management Services when Bush was governor, is now the Bush campaign treasurer, a campaign spokeswoman told Bloomberg.
* David Johnson: A veteran political consultant who was executive director of the Republican Party of Florida when Bush was governor, is president of the policy group, taking over from Simon. Johnson is also a consultant for the super-PAC, a Right to Rise USA spokesman confirmed to Bloomberg.
* Michael Steel: House Speaker John Boehner's former spokesman, Steel left the Capitol in May to join the policy group. He's now working for the campaign.
* Paul Lindsay: Lindsay is the chief spokesman for the super-PAC and the policy group.
In addition, at least three fundraisers were consulting for both the campaign and the super-PAC: Kris Money, Trey McCarley and Debbie Aleksander. They have since parted ways with both groups, Lindsay said.
Kristy Campbell, a spokeswoman for Bush's campaign, argues there was FEC precedent for fundraising consultants to have multiple clients. "Our campaign fully complies with all federal campaign finance laws and regulations and requires the same of its consultants," Campbell said, adding that the campaign requires consultants to "undergo rigorous compliance training."
A review of campaign finance records also shows numerous other ties between the campaign and the super-PAC.
* Sally Bradshaw: A Florida-based Republican consultant who has been advising Bush since his first governor's campaign in 1994, Bradshaw was a paid consultant for the super-PAC before Bush officially announced his campaign in June. She's now his top campaign adviser.
* Dave Kochel & Redwave Communications: Bush's senior adviser travels regularly with him on the campaign trail. His West Des Moines, Iowa-based company, Redwave Communications LLC, consulted for the super-PAC before Bush's official campaign announcement.
* Danny Diaz & FP1 Strategies: Diaz, who has worked on the presidential campaigns of the past three Republican nominees, is Bush's campaign manager. He's a founding partner of FP1 Strategies, which provided communications consulting to the super-PAC before Bush's campaign announcement.
* Sal Purpura: Purpura consulted on compliance issues for the super-PAC before becoming a top compliance officer for the campaign.
* Hill Research Consultants: The Auburn, Alabama-based public opinion and marketing research firm is led by David Hill, whose work for Bush dates back to the 1994 governor's race. The company provided survey research to the super-PAC and is now working for the campaign.
* Kevin Zambrano: A former digital strategist for the National Republican Congressional Committee, Zambrano was a digital consultant for the super-PAC and is now on the campaign's payroll.
* Ann Herberger: Herberger, a longtime Bush adviser, is the campaign's top fundraiser in Florida. Before the official campaign, she was a consultant for the super-PAC.
* Heather Larrison & The Larrison Group: A former National Republican Senatorial Committee finance director, Larrison is in charge of fundraising for the Bush campaign. Her company was one of 16 fundraising consultants for the super-PAC, which raised $103 million in the first six months of the year.
The nonprofit and super-PAC are working together but have "separate and distinct missions," Lindsay said.
The nonprofit is engaged in policy research and education "consistent with Governor Bush's optimistic and conservative vision," Lindsay said. The super-PAC is expected to be better funded than the campaign itself, which would be a first in modern presidential elections, and focus mostly on digital marketing and television advertising on behalf of Bush.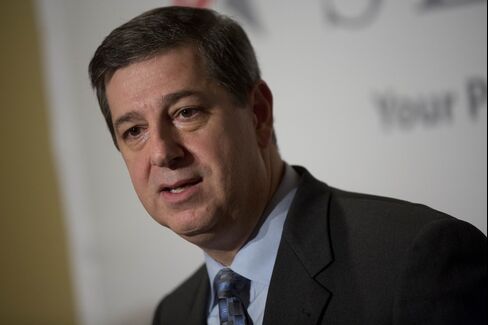 Lindsay declined to say how much money the nonprofit has raised, or identify its donors. He also declined to say whether anyone else was consulting for both the super-PAC and the campaign, other than the three fundraisers in Florida who have since left the team. "We are in compliance with all FEC rules and regulations," Lindsay said.
Both outside groups can advocate for candidates. To that end, the super-PAC is preparing an initial TV ad campaign this month in Iowa, South Carolina and New Hampshire, the three states that hold the first presidential nominating contests.
That marketing campaign will launch as Bush unveils a set of policy proposals. His tax plan is set to roll out Sept. 9. Bush said on Tuesday that he'll unveil a college debt plan in about a month.
The nonprofit, meanwhile, has populated a webpage with seven policy papers. While developing policy traditionally has been a main function of campaigns, the nonprofit has an undisclosed budget to develop positions alongside Bush's campaign. In addition to Johnson, the group includes one staffer and several consultants.
The papers on the nonprofit's website covering topics such as Obamacare alternatives, school choice, and regulation reform. The papers are relatively short, optimistically written and express support for general conservative policy.
The paper on global trade urges the U.S. to be mindful of the "dislocation" that trade can have on workers, and backs "effective" worker training programs. The Obamacare paper highlights private health exchanges as a "free market alternative." On energy, the group supports investment in research and development of sustainable sources, noting "many scientists and other experts believe" that burning fossil fuels has contributed to global warming.
Before it's here, it's on the Bloomberg Terminal.
LEARN MORE