Default Pain Turns Into Gain for China's Debt Rating Companies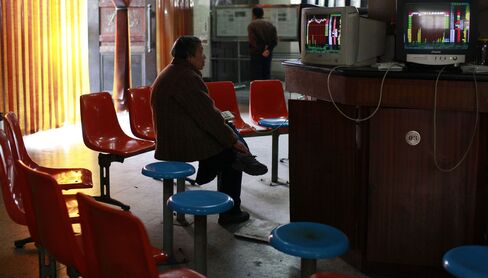 China Bond Rating started selling a list of riskiest issuers

Rating firms received more inquiries about onshore defaults
The default contagion inflicting pain on Chinese bond issuers and investors offers a chance for rating companies to gain revenue.
China Bond Rating Co. started selling "The Riskiest Chinese Bond Issuer List" this year and has offered more training sessions to financial institutions than in the whole of 2015. Golden Credit Rating International Co. said it had set up a new department to address investors' inquiries and provide seminars. S&P Global Ratings and Moody's Investors Service also reported a spike in interest from fund managers.
"The rising credit risks will highlight the value of ratings and credit information and lift rating firms' status in the bond market," said Yang Qinyu, general manager of the policy research department at China Bond Rating. "Bondholders will also demand issuers to expand information disclosure, which will help rating agencies to get more comprehensive information in a more convenient way."
The spotlight is on Chinese corporate bond ratings after at least 17 notes defaulted this year, more than double the seven for all of 2015. It hasn't exposed a particularly flattering picture, with credit assessors often rushing to cut the rankings of borrowers already in distress. About 56 percent of the bond issuers listed in China whose securities are rated AAA in the nation have default risk consistent with what Bloomberg's quantitative, independent default-risk model deems a below-investment-grade company.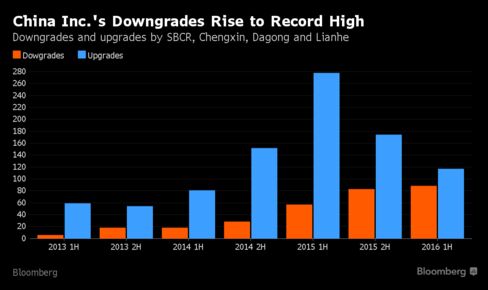 Chinese regulators have stepped up controls on rating firms after investors expressed dissatisfaction. The China Securities Regulatory Commission said in March it had issued warning letters to six of them on violations.
"Only good and prudent rating agencies can stand the test of the market, reduce their reliance on government support and expand businesses," said Ye Sheng, Shanghai-based head of fixed-income research at Fullgoal Fund Management Co., which oversees 168 billion yuan ($25.2 billion) of assets.
Dagong Global Credit Rating Co., Shanghai Brilliance Credit Rating & Investors Service Co., China Chengxin International Credit Rating Co. and China Lianhe Credit Rating Co. cut a record 88 bond issuer ratings in the first half of this year, compared with 57 downgrades in the same period of 2015, according to data compiled by Bloomberg. Corporate bond defaults dropped to zero in July, from one in June and five in May, amid signs that local governments are helping companies in financial trouble.
Regulatory Controls
"Chinese regulators have been extremely strict in regulating the rating industry this year as defaults rise," said Guan Jianzhong, chairman of Dagong. "It's inevitable that we need to expand our rating staff, but there are not many such qualified talents available."
Moody's has received a "considerable number" of inquiries, according to Jenny Shi, China Country Manager. Simon Jin, president of Greater China in Beijing at S&P, said his firm had received interest from domestic as well as international investors on onshore nonpayment risks.
"With China's onshore defaults rising, we've seen more market concerns," said Jin. "We will continue to expand our China-based teams to better serve market participants."
China Bond Rating's Yang said there has been an "obvious" increase in foreign investor subscriptions to the firm's list of the riskiest bonds. It provides risk appraisal on debt portfolios for investment firms, and started issuing a daily report evaluating newly sold notes from February. The firm has trained almost 1,000 people nationwide on credit risk management through 10 workshops it has held this year, up from 7 in 2015.
"The surging defaults are giving space for rating agencies to develop risk management businesses," said Fullgoal's Ye. "But Chinese regulators should make sure there are firewalls between a ranking company's rating and investment advisory services."
Luo Guang, chairman of Golden Credit, sees more defaults in the second half than the first.
"Rising credit risks will bring opportunities to rating agencies," said Luo.
— With assistance by Judy Chen
Before it's here, it's on the Bloomberg Terminal.
LEARN MORE