China Funds Running From Company Defaults Bet Big on Bank Debt
Bloomberg News
Certificates of deposit issuance triples to $928 billion

Demand driving sales as lenders seen less likely to fail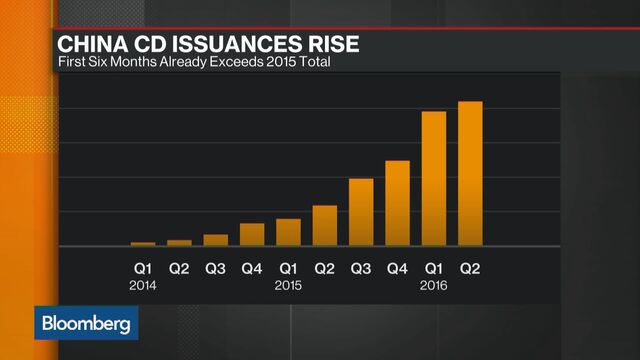 Chinese fund managers have tightened their risk controls and are loading up on short-term paper of banks, which they consider less likely to default than companies.
Lenders sold 6.2 trillion yuan ($928 billion) of certificates of deposit in the first half, tripling from 1.7 trillion yuan a year ago, data compiled by Bloomberg show. While China's securities regulator banned money-market funds from buying corporate debt rated below AA+ in February, there are no limitations for CDs. HFT Investment Management Co. and Ping An Asset Management Co. say they have stepped up the scrutiny of risky notes.
"Banks have a stronger credit profile than companies," said Shanghai-based He Qian, a fund manager overseeing about 20 billion yuan at HFT, who didn't give details about his new investment limits. "Lenders can go bankrupt, too, but it only happens after company failures lead to a surge in non-performing loans. So, while investors may not dare buy corporate debt with low credit ratings, they are willing to put money into lower-rated CDs."
Demand for the perceived safety of certificates of deposit is being fueled by a rising number of corporate bond defaults, which have almost tripled so far this year from the whole of 2015. Companies pulled more than 200 billion yuan of planned bond sales in the second quarter as economic growth matched the slowest pace since 2009. That has left plenty of cash to be parked in short-term paper, which smaller banks have been issuing to fund their business instead of using interbank loans.

The yield on three-month certificates of deposit sold by AAA rated issuers has tumbled 44 basis points this year to 2.68 percent, compared with the 2.87 percent Shanghai Interbank Offered Rate. Taian Bank Co., a city commercial lender rated AA- by China Chengxin Ratings, issued one-month CDs at 2.70 percent last week, compared with the one-month Shibor of 2.81 percent. The low rate underscores expectations that policy makers won't allow lenders to fail.
"Investors deem banks as the last type of entity that will default," said Wan Zhao, a senior analyst at China Merchants Bank Co. "CDs are considered as safe as policy banks' financial bonds, which are almost close to the sovereign."
The long-standing concept of implicit guarantees in China has been waning of late, with the government allowing an increasing number of defaults even among state-owned enterprises. At least three SOEs have reneged on public bonds this year, compared with a minimum of two in the whole of 2015.
Bad Loans
Banks' non-performing loans climbed to 1.81 percent of total outstanding credit at the end of June from 1.75 percent at the end of March, according to latest government data. Official figures are widely believed to understate the true scale of the problem, with CLSA Ltd. estimating the NPL ratio at 15 percent to 19 percent at the end of last year versus the official 1.67 percent.
China hasn't had any bank failures since the monetary authority closed down Hainan Development Bank in 1998. The government has recapitalized and restructured ailing financial institutions several times since then on concern that bankruptcies at any lender would trigger a run on the banking system and lead to social unrest.
Mutual funds held 37 percent of outstanding CDs at the end of last month, jumping from 6.3 percent at the end of August, when they were first allowed to invest in the securities, according to Bloomberg calculations based on Shanghai Clearing House data.
As fund managers are forced to take fewer risks, the premium of one-year AA- corporate debt over top-rated bonds climbed as much as 37 basis points to a four-year high of 268 basis points, the widest since 2012, in May and was last at 244 basis points.
Smaller Lenders
Smaller banks have dominated CD sales with issuance outside the 10 biggest listed lenders accounting for 71 percent of the total this year, up from 50 percent in 2014, data compiled by Bloomberg show. Larger lenders normally rely on deposits to meet liquidity needs.
"Since smaller banks have to pay higher rates than Shibor when they borrow funds, many choose to issue CDs instead," said Li Liuyang, Shanghai-based market analyst at Bank of Tokyo-Mitsubishi UFJ (China) Ltd. "Smaller banks are also active investors. With bad loans rising, and defaults making lending to companies more risky, returns from CDs are attractive."
— With assistance by Ling Zeng, and Helen Sun
Before it's here, it's on the Bloomberg Terminal.
LEARN MORE