Sony's Playstation Virtual Reality Headset to Arrive in October for $399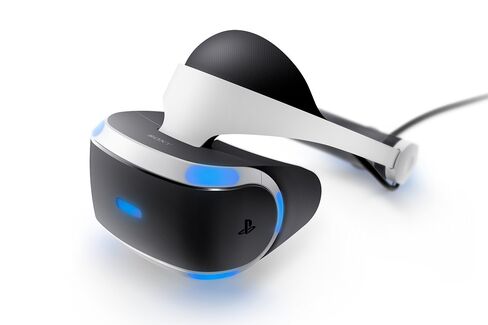 Sony said its virtual reality headset, the Playstation VR, will go on sale in October for $399 -- significantly less than the $600 Oculus Rift or the $800 Vive made by HTC and Valve. The lower price further cements a prediction already held by game developers and analysts: While Sony's rivals have inspired greater excitement, more people will actually buy the Playstation headset, at least in the short term.

With the full details of all the major VR headsets now public, the one major unsettled question is which game will become the first blockbuster hit in virtual reality. There will be more than 50 games that run on Sony's system by the end of the year, the Tokyo-based company said Tuesday at the Game Developers Conference in San Francisco. It is packaging Playroom VR, which lets people wearing the device interact with others playing through the console on a television, for free with the headset. Electronic Arts is making a version of its Star Wars Battlefront game for the headset, although Sony declined to say whether that game would be among those coming out this year.

With the first sophisticated consumer devices hitting the market this month, 2016 is supposedly the year of virtual reality, and the subject has dominated the gaming conference this week. Still, gaming companies have been trying to tamp down expectations about how quickly virtual reality will go mainstream. Andrew House, chief executive officer of Sony Computer Entertainment, declined to discuss the company's sales projections.

"I think this is going to be driven as an enthusiasts' market at first, people who are looking at what is new, and completely different, and what's next, in terms of what a game can be," he said.
Facebook's Oculus Rift headsets will begin shipping to consumers on March 28, marking the beginning of the new commercial era of virtual reality. But the $600 price tag for the device actually significantly understates its cost. Using the headset requires a powerful personal computer, which can cost more than $1,000. There are only about 13 million computers worldwide that have the graphics capabilities needed to run VR, according to Nvidia, the largest maker of computer-graphics chips.
Sony's headset, which will be released in Japan, North America, Europe and Asia, works with its $350 Playstation 4 gaming console. At the least, this will give it added appeal to the 36 million people who already own the console. It's also simpler to plug a headset into a console than set up a powerful PC. These things should outweigh any technical limitations, according to Digi-Capital founder Tim Merel. "At the end of the day, it's all about the user, not just the tech," he said.
Right now, most people experiencing virtual reality are doing so with their smartphones, through applications that purists say shouldn't count as virtual reality at all. Inexpensive setups like Google Cardboard and Samsung Gear VR lack the spacial tracking that engineers who work on virtual reality say is vital to keeping people from getting sick.
Sony is trying to carve out a space between the low-end smartphone-based devices and the expensive premium devices. House said Sony is making a profit off each headset it sells -- in contrast to Oculus, which says it's not making money on its hardware -- and the Japanese company decided against dropping the price further in part to distinguish it from products like Samsung Gear VR. But House acknowledged that Sony is inferior in some technical aspects to Oculus and Vive.

"We're not necessarily talking about a performance gap so much as tradeoffs that engineers have made in bringing rather different VR approaches to market," he said.
A recent survey conducted by gaming research firm SuperData found that more than half of gamers who intended to buy a VR device were opting for an inexpensive smartphone-based headset. Thirty percent were planning to buy Sony's device, compared with 13 percent for the Rift and 5 percent for the Vive. SuperData estimates that Sony will sell almost 3 million headsets this year, though that projection was made before Sony announced its October release date, which is later than analysts had expected. Oculus and HTC combined are forecast to sell 2 million, according to SuperData.
If virtual reality develops into the world-changing platforms that its backers think it will, Sony's advantage will fade over time, said Stephanie Llamas, SuperData's director of research. Less powerful computers will be able to run virtual reality software, and the types of things people will do with the technology will move beyond hard-core gaming, meaning console owners will make up a smaller percentage of potential VR-headset users.

"As the specs go down, the market expands dramatically," Llamas said. "PS4 has more of a ceiling."