The benefits arms race is showing no signs of slowing down: Twee online marketplace Etsy and financial-services giant Fidelity both announced expanded paid leave policies on Tuesday. Fidelity doubled its previous family leave offering, upping its paid maternity leave to 16 weeks and parental leave to 6 weeks, the company said in a statement. Etsy went with an all-encompassing parental leave policy, according to a post on its corporate blog. All of its 819 employees are eligible for a full 26 weeks of paid leave when they become a parent, regardless of gender or family circumstance. That also includes adoptive parents, making it one of the more generous leave policies out there.

"We had sense of our talent competitors and where they're at," said Juliet Gorman, Etsy's director of culture and engagement. "This certainly puts in the position of being a leader."
Both companies have enhanced their benefits in an attempt to attract and retain employees. "A generous, fully-paid parental leave policy is a competitive necessity for a company like Etsy," wrote Gorman in the announcement on the company blog. Fidelity called paid leave a "compelling benefit to attract and retain employees." The company has also started offering student debt repayment, another hot, recruitment-friendly benefit. Fidelity will put $2,000 a year toward student loan repayments for employees who have worked at the company for at least six months, up to a total of $10,000. Fidelity estimates that about a quarter of its 42,000 employees have student loan debt.
"For us it's very important that we demonstrate that we're a destination for that talent," said Fidelity's head of benefits, Jennifer Hanson.
At big companies trying to hire highly skilled workers, benefits packages keep getting nicer. In 2015 the percentage of large companies paying for parental leave hit an all-time high. Each month, more companies announce the student debt benefit. As the recruitment wars heat up, the number of companies offering parental leave and student debt repayment is expected to climb.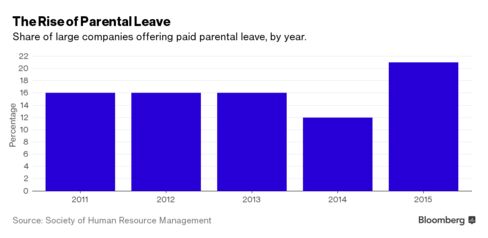 Yet most American workers don't have access to the same luxuries. Only 12 percent of U.S. workers are covered by formal leave policies, and under half of companies offer paid maternity leave. While about 70 percent of today's college graduates come out of school with an average of $35,051 in debt, only 3 percent of companies offer a student debt benefit as of 2015.
Potential legislation could cover more workers. Washington, D.C., Connecticut, and New York might join California, New Jersey, and Rhode Island by adding paid family leave policies to the books. Also, both of the Democratic presidential candidates, Bernie Sanders and Hillary Clinton, are running on paid family leave. As for student debt, both the House and Senate are considering bills that would treat student debt repayment as nontaxable income, making it a more attractive offering for employers.
"We've been cautiously optimistic," said Kathleen Coulombe, a government affairs adviser at the Society for Human Resource Management, of the bill. "I think that we're starting to see that employers really need these resources to attract talent."
(
Corrects source identification in chart.
)
Before it's here, it's on the Bloomberg Terminal.
LEARN MORE