U.S. Stocks Little Changed as Fischer Outweighs Renewed Oil Rout
Fed vice-chair says next move uncertain amid market turmoil

Crude plunges as China manufacturing slows for sixth month
U.S. equities staged an afternoon rally to finish little changed, shrugging off a resumption in oil's selloff after a Federal Reserve official said policy moves are not predetermined amid the recent market turmoil. The dollar weakened.
The Standard & Poor's 500 Index fell just short of a third day of gains after erasing a 1 percent decline amid advances in consumer and technology shares. Alphabet Inc. surged in extended trading on above-estimate earnings, raising the prospect it could unseat Apple Inc. as the world's most valuable company. The Bloomberg Dollar Spot Index slid 0.4 percent as Fed Vice Chairman Stanley Fischer said the impact of recent market turbulence on U.S. growth could factor into decision-making. Crude fell more than 6 percent, halting the longest rally this year on evidence of an ongoing slowdown in Chinese manufacturing.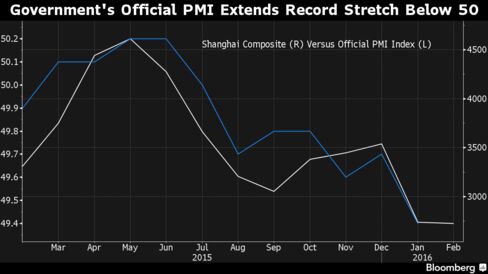 Fischer's dovish comments added to optimism among equity investors recently emboldened by signals from central banks in Europe and Japan that they stand ready to do what is needed to spur growth. American shares advanced even as crude retreated decoupled, at least temporarily, assets that have moved in lockstep so far this year.
"Usually when oil's down this much you'd see stocks down but it's had a nice run back and it's trading around that $32 level," Larry Peruzzi, managing director of international equities at Mischler Financial Group Inc. in Boston. "After the last two weeks traders and investors are just emotionally spent with huge up days and huge down days. Central banks and people searching through earnings numbers offsets it a little bit."
Equities
The S&P 500 fell less than 0.1 percent to 1,939.38 as of 4 p.m. in New York, after rallying 2.5 percent on Friday. The gauge erased morning losses to gain as much as 0.4 percent, before slipping in the final minutes of trading. Netflix Inc. rose 2.5 percent to pace advances in technology shares, while phone and utility stocks advanced more than 0.9 percent. Energy shares led declines, with a 1.9 percent slide.
Common stock of Alphabet, the holding company of Google, climbed about 6 percent in extended New York trading. Should those gains be realized Tuesday, Alphabet's market capitalization would rise to $555 billion, about $20 billion above Apple's.
The U.S. benchmark plunged 5.1 percent in January, its worst start to a year since 2009. Amid the turbulence, investors have been loading up on shares of companies with the sturdiest earnings momentum. Qualities that define winning investments no longer include the high-risk, high-reward potential of companies whose balance sheets are laden with debt.
Investors are also looking to U.S. data for indications of the health of the world's biggest economy and the possible trajectory of interest rates. Household spending cooled in December, while consumer purchases were little changed. A report from the Institute for Supply Management showed manufacturing contracted in January.
The Stoxx Europe 600 dropped 0.7 percent, as Nokia Oyj dragged a measure of technology shares to the worst performance of the 19 industry groups. The company tumbled 11 percent after investors were disappointed by a court decision in a patent dispute with Samsung Electronics Co.
Commodities
The Bloomberg Commodity Index fell 1.7 percent on Monday, having climbed 2.6 percent last week, the most since October.
West Texas Intermediate oil futures dropped 6 percent to settle at $31.62 a barrel, ending a four-day rally. Nickel fell to a two-week low and copper retreated after data pointed to worsening demand in top consumer China.
Gold futures climbed to the highest in almost three months after data showed further contraction in Chinese and U.S. manufacturing, boosting demand for the metal as a haven.
Emerging Markets
The MSCI Emerging Markets Index advanced 0.1 percent as the worse-than-expected Chinese manufacturing data put the brakes on a rebound in riskier assets. The Shanghai Composite Index slid 1.8 percent, extending declines after its worst monthly selloff since October 2008.
The Turkish lira fell for the first time in five days, sinking 0.3 percent versus the dollar. President Recep Tayyip Erdogan said Russia will "face consequences" if it doesn't respect Turkey's sovereignty, after his government reported the second Russian violation of the country's airspace in two months.
Russia's ruble weakened 2.5 percent as oil declined, while the Mexican peso slid 0.7 percent.
Currencies
Bloomberg's dollar gauge, which charts the greenback against 10 major peers, retreated after rising 1.6 percent in January.
The euro gained 0.5 percent to $1.0888, even after a report showed factories in the euro area cut prices of goods by the most in a year in January. The yen held losses against the dollar, trading at 120.99 after slumping as much as 2.3 percent on Friday to 121.69, its lowest level since Dec. 18.
Bonds
Global bond yields fell to levels not seen in a year while Japan's extended their push to record lows following Haruhiko Kuroda's decision last week to cut interest rates.
The yield on a Bank of America Corp. index of sovereign bonds dropped to 1.39 percent, the least since February 2015. Japan's 10-year yields slid as to 0.044 percent while those on two-year securities declined to minus 0.17 percent. Benchmark Treasury yields reached 1.91 percent, the lowest level since Oct. 2.
European bonds held last week's advance, with Belgian and Dutch two-year note yields falling to records Monday, before ECB President Mario Draghi speaks in the European Parliament in Strasbourg.
Before it's here, it's on the Bloomberg Terminal.
LEARN MORE