Fischer Says Fed's Next Decision Unclear Amid Global Uncertainty
by and
Tells audience not to ask what Fed will do at next meeting

Fed's No. 2 still confident inflation will rise to 2%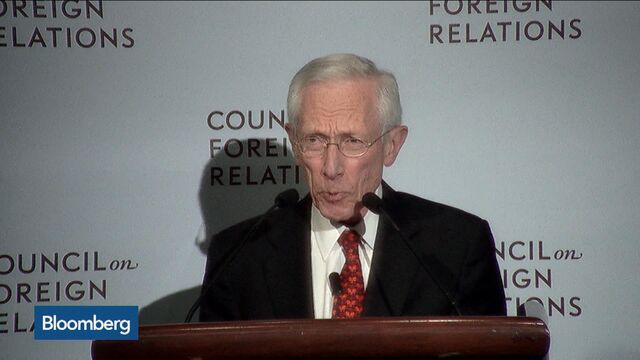 Federal Reserve Vice Chairman Stanley Fischer said it was too difficult to gauge the impact on the U.S. economy from recent turmoil in financial markets and uncertainty over China, leaving policy makers undecided about what to do next.
"If these developments lead to a persistent tightening of financial conditions, they could signal a slowing in the global economy that could affect growth and inflation in the United States," Fischer told the Council on Foreign Relations in New York on Monday. "But we have seen similar periods of volatility in recent years that have left little permanent imprint on the economy."
Fischer's remarks follow a tumultuous January in which expectations for additional interest-rate increases in 2016 plunged. When the Fed raised rates in December for the first time in almost a decade, officials gave projections suggesting they saw four increases this year. Investors currently foresee one, based on futures-market pricing.
World stocks have been battered in the new year, dropping 6 percent even after a bounce-back in the past two weeks. Oil has dropped 12 percent.
'Can't Answer'
Fischer, the Fed's No. 2 policy maker after Chair Janet Yellen, emphasized that he "can't answer" questions about what the Fed will do when policy makers next meet in March. "We simply do not know. The world is an uncertain place, and all monetary policy makers can really be sure of is that what will happen is often different from what we currently expect."
Fischer, 72, nonetheless stuck by his past assurances that inflation is likely to move back toward the central bank's 2 percent target, although it will take longer than previously expected. He also reiterated that the Fed expects to make "gradual increases in the federal funds rate."
"Once these oil and import prices stop falling and level out, their effects on inflation will dissipate," he said.
While responding to questions following his speech, Fischer said he also believes that progress made in getting Americans back to work is likely to continue.
"You've got a labor market that's been remarkably strong for a long time, and continues to be remarkably strong," he said.
Unemployment Overshoot
He noted during his speech that he's comfortable if continued strong jobs gains push the unemployment rate, now at 5 percent, somewhat below the level that would be viewed as normal in the longer-run. Additional slack in the labor market and the low level of inflation would mean the Fed would likely not have to react sharply to an overshoot on unemployment. 
There is also "some benefit to maintaining a larger balance sheet for a time" to reduce the risks from a shock to the economy, he said.
"Doing so should help support accommodative financial conditions and so reduce the downside risks to the economic outlook in the event of a future adverse shock to the economy," he said in his speech.
Responding to questions, Fischer said those foreign central banks that had resorted to negative interest rates to stimulate their economies had been more successful than he anticipated.
"It's working more than I can say I expected in 2012," he said.
Central banks that have turned at least some policy rates negative include the European Central Bank, the Bank of Japan and Sweden's Riksbank.
Before it's here, it's on the Bloomberg Terminal.
LEARN MORE