Wu-Tang Loving Pharma CEO Also a Better Short Seller Than Chanos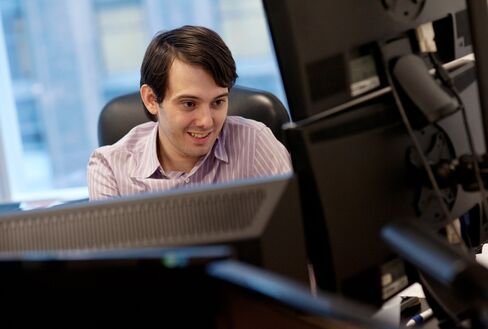 Martin Shkreli is no stranger to the press. He nabbed headlines this month for paying millions for the only existing copy of the Wu-Tang Clan's latest album. In September, he drew condemnation for raising the price of a drug for HIV patients by more than 5,000 percent. Corporate disputes and outrageous tweets added to the controversy along the way.
One thing the 32-year-old Shkreli, chief executive officer of both Turing Pharmaceuticals AG and KaloBios Pharmaceuticals Inc., doesn't grab as many headlines for: short selling. And perhaps even less known: he's very good at it. One ranking, by short selling data firm Activist Shorts, puts the performance of his published bearish calls above those of Citron Research, Kase Capital Management's Whitney Tilson, Greenlight Capital and Jim Chanos's Kynikos Associates LP.
Below is a chart listing each critical report that Shkreli has published since 2011, along with the stock's performance over a year or the campaign's length. His short calls ranked high among peers, both in the short and longer term, and also against the performance of the Standard & Poor's 500 Index, according to Activist Shorts. Shkreli didn't respond to a request for comment.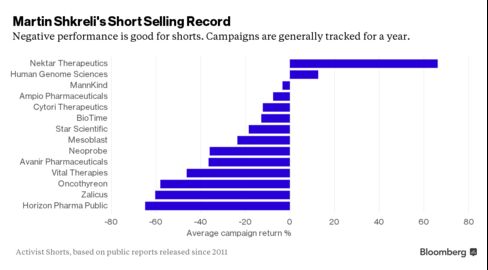 Two caveats: Shkreli didn't publish reports over 2013 and 2014 -- a notably tough period for bearish investors. And short sellers do all kinds of investing, long and short, private and public, meaning that this is by no means an exhaustive comparison of total returns.
Watch Next: KaloBios CEO Shkreli Puts the Squeeze on Shorts
Before it's here, it's on the Bloomberg Terminal.
LEARN MORE