Retrophin Sues Founder in Latest Fight Over Use of Funds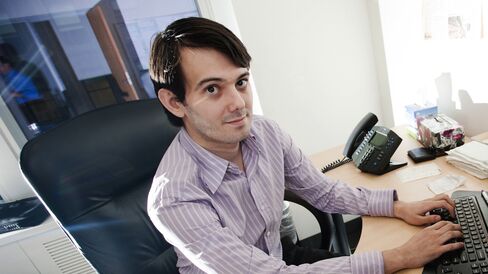 Retrophin Inc. sued its founder Martin Shkreli for $65 million, claiming he breached his duty of loyalty to the biopharmaceutical company in a long-running dispute over his use of company funds.
Shkreli left the company, which develops treatments for diseases including muscular dystrophy, in September 2014. He's been the target of investor lawsuits over his trading in Retrophin stock, and the company has said it received a subpoena tied to a probe by federal prosecutors in Brooklyn, New York. The government requested information on Shkreli, Retrophin said.
In February, Retrophin disclosed the results of an investigation into the former CEO. The company said that, under Shkreli, the company used "consulting agreements" to settle legal disputes against him and hedge funds he ran, using Retrophin funds in the process.
The complaint against Shkreli was filed Monday in Manhattan federal court. In it, Retrophin claims he engaged in self-dealing and also seeks disgorgement of money paid to him.
Baseless, Meritless
The lawsuit is "baseless and meritless," Shkreli said in a telephone interview. "We're going to win. They still owe me a substantial amount of money."
Company lawyers alleged Shkreli was "the paradigm faithless servant" in violating his duty of loyalty, and "is not entitled to compensation or post-separation benefits."
He wrongly enriched himself with "sham consulting agreements," use of company money to fulfill outside obligations and caused Retrophin to breach convertible note agreements to enhance his position, according to the complaint.
"Through these schemes, Shkreli obtained over $5.6 million in cash and Retrophin shares or the use of Retrophin shares worth over $59 million (at current market prices)," the company contends in court papers.
The case is Retrophin Inc., v. Martin Shkreli, 15-cv-06451, U.S. District Court, Southern District of New York (Manhattan).
Before it's here, it's on the Bloomberg Terminal.
LEARN MORE