Dollar Solidifies Payrolls Surge While China Trade Sinks Copper
Traders now pricing in 68% chance of a December rate hike

BHP drives Aussie stocks lower as yen drop buoys Japan
The double whammy of a stronger dollar and weak Chinese trade data weighed on copper and Australia's currency, with most Asian index futures foreshadowing declines after U.S. payrolls data bolstered prospects of an interest-rate increase this year.
Both the Aussie and New Zealand's dollar were near one-month lows as the biggest increase in U.S. employment this year underpinned the greenback. Copper futures fell a fourth day after Chinese trade slumped more than analysts anticipated, stoking bets that regulators there will have to expand economic stimulus. While Australian stocks opened lower and futures signaled losses from Hong Kong to Seoul, Japanese contracts climbed with the yen at an 11-week low. Oil and gold were steady after tumbling on Friday.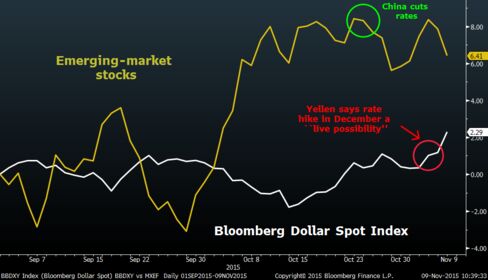 "The U.S. labor market report was a doozy," Philip Borkin, senior economist in Auckland at ANZ Bank New Zealand Ltd., said in a client note. "The figures gave an unequivocally positive signal on the state of the U.S. economy. Moreover, with financial markets generally taking the prospects of higher rates pretty well, then this will give Fed officials further comfort that the time to begin ending emergency monetary policy settings is fast approaching."
Odds on the Federal Reserve hiking benchmark rates at its next meeting in December jumped to 68 percent after the payrolls data signaled the U.S. labor market is on a solid footing. The report vindicated rhetoric from Fed officials, who had been working to reintroduce the prospect of a 2015 rate increase after citing lackluster inflation and concern over China's slowdown for their inaction in September and October. Data on Chinese consumer prices to retail sales this week set will help investors get a handle on Asia's largest economy, and color speculation on the outlook for further easing.
Currencies
The Aussie dropped 0.1 percent to 70.33 U.S. cents as of 8:44 a.m. Tokyo time, after touching its weakest level since Oct. 2 and slumping 1.4 percent on Friday. The Kiwi was little changed at 65.33 U.S. cents following a retreat of as much as 1.7 percent last session to its lowest price since Oct. 6. Both Australia and New Zealand count China among their biggest trading partners.
Data released at the weekend showed Chinese exports fell 6.9 percent in October, exceeding all 31 estimates from economists surveyed by Bloomberg. Imports were also weaker than expected, sinking 18.8 percent after analysts tipped a drop of 15.2 percent. The trade surplus swelled to a record $61.6 billion. Other data this week is projected to show continued deflation in the industrial sector and a softening in consumer-price inflation, weakness that could spur an uptick in stimulus from the central bank.
"The October trade data keep pressure on for more domestic easing," said Louis Kuijs, head of Asia economics at Oxford Economics in Hong Kong.
The Bloomberg Dollar Spot Index, a gauge of the greenback against 10 major peers, rose 0.1 percent after jumping 1.1 percent on Friday to close at its highest level since at least 2005.
U.S. employers added 271,000 workers to nonfarm payrolls last month, up from an increase of 137,000 in September and blowing past the 185,000 advance projected by economists. The jobless rate dropped to 5 percent.
The euro slipped 0.1 percent to $1.0730 Monday after sinking 1.3 percent last session, while the yen traded at 123.27 per dollar, extending losses at its weakest level since Aug. 21. Japan's currency typically moves at odds with the nation's exporter-heavy stock indexes.
Stocks
Australia's S&P/ASX 200 Index lost 0.8 percent in early trading, led lower by raw materials producers as BHP Billiton Ltd., the world's biggest mining company, sank the most since Sept. 29.
Samarco Mineracao SA, the world's second-largest producer of iron-ore pellets, will halt output of the material for blast furnaces after its dams in the Brazilian state of Minas Gerais ruptured, triggering a mudslide that's left two dead and at least 28 people missing. The joint venture between BHP and Vale SA will suspend production and shipments of pellets at its Ubu unit in Espirito Santo state when existing stockpiles run out, Samarco said in a statement Saturday. Activities at its Germano unit in Minas Gerais, where the incident took place, are already suspended.
New Zealand's S&P/NZX 50 Index, the first major stock gauge to start trading each day in the Asia-Pacific region, climbed 0.2 percent.
Futures on South Korea's Kospi index were down 0.2 percent in trading at the end of last week, while contracts on Hong Kong's Hang Seng and Hang Seng China Enterprises indexes retreated at last 0.4 percent. Those on the FTSE China A50 Index were down 0.9 percent.
Conversely, Japanese index futures signaled more gains for the nation's equities, with contracts on the Nikkei 225 Stock Average bid for 19,460 in the Osaka pre-market, up from 19,260 at their close there on Friday. Yen-denominated futures on the gauge were little changed at 19,455 after soaring 1.2 percent last session.
U.S. equities largely shrugged off the payrolls data and bump up in December rate-hike bets, with the Standard & Poor's 500 Index ending Friday little changed, while the Dow Jones Industrial Average and Nasdaq 100 Index climbed at least 0.3 percent. Futures on both the S&P 500 and the Dow Average were little changed early on Monday.
As the turmoil that marred the third quarter for financial markets fades and concern over China's slowing economy abates, the jobs data is helping investors come around to the idea that the American economy is strong enough to withstand the first increase in borrowing costs for nearly a decade.
"The reality of a Fed rate hike will be digested over the next couple weeks," said Leo Grohowski, who helps manage more than $184 billion in client assets as chief investment officer of BNY Mellon Wealth Management in New York. "It's going to take a while for equity market participants and strategists to feel confident enough to increase their earnings expectations. But I think the equity market grinds higher between now and the end of the year."
Bets on a December hike have increased from 50 percent last week and 37 percent a month ago, according to futures trading tracked by Bloomberg.
Japan reports data on earnings Monday, and Malaysia issues an update on industrial production. Taiwanese trade numbers are due.
Before it's here, it's on the Bloomberg Terminal.
LEARN MORE