China's Trade Drop Means More Stimulus Measures Are Coming
Fourth monthly export drop as import losses match 2009 record

Report sets soft tone before heavy week for Chinese indicators
A contraction in China's trade flows shows little alternative for the nation's leaders than injecting support for domestic demand as they struggle to achieve their growth target.
Overseas shipments dropped 6.9 percent in October in dollar terms, the customs administration said Sunday, a bigger decline than estimated by all 31 economists in a Bloomberg survey. Weaker demand for coal, iron and other commodities from declining heavy industries helped push imports down 18.8 percent, leaving a record trade surplus of $61.6 billion.
The report set a soft tone for a data-heavy week featuring key October releases. Industrial production and fixed-asset investment are forecast to show little pickup, even after six central bank interest-rate cuts and moves to spur local government spending. The silver lining: retail sales gains are seen underscoring the rising role of consumers.
While an expanding middle class propels revenue and earnings at companies like Internet giant Alibaba Group Holding Ltd. -- which on Wednesday hosts Singles Day, the year's biggest shopping event -- it hasn't been enough to offset declining heavy industries. Exports helped stoke China's rapid-growth phase, a period that now seems over as the global economy decelerates.
"The October trade data keep pressure on for more domestic easing," said Louis Kuijs, head of Asia economics at Oxford Economics in Hong Kong. "Measures are likely to continue to focus on shoring up domestic demand rather than weakening the currency. And over time the role of fiscal policy expansion should rise."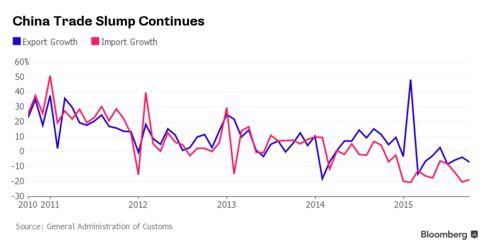 Other figures this week are projected to show continued deflation in the industrial sector, and consumer-price inflation softening in October to a 1.5 percent annual pace. That weakness would underscore the scope for additional easing by the People's Bank of China.
Sunday's trade report showed exports to Japan slumped 9 percent in the first 10 months from a year earlier, while those to the European Union declined 3.7 percent. Shipments to Hong Kong dropped 11.7 percent during the period.
"Exports continue to face structural headwinds," said Rajiv Biswas, Asia-Pacific chief economist at IHS Global Insight in Singapore. "With recent economic data continuing to indicate some moderation in Chinese economic growth during the second half of 2015, the Chinese government may utilize additional monetary and fiscal stimulus measures to boost gross domestic product growth in 2016."
U.S., India
Exports to the U.S., China's largest trading partner, jumped 5.8 percent in the first 10 months from a year earlier, while those to the Association of Southeast Asian Nations increased 4.2 percent. Shipments to India rose 8.9 percent.
The central bank will maintain stable monetary policy and create a neutral monetary and financial environment for economic restructuring, according to the third-quarter Monetary Policy Implementation Report it released Friday. The PBOC also said the economy faces downward pressure and inflation is likely to be low.
Those comments "signaled the PBOC's intention to prevent a secular fall in demand amid transition to the 'new normal,' " Goldman Sachs Group Inc. economists including MK Tang in Hong Kong said in a report Sunday.
Output this year is on pace for the slowest expansion in a quarter century. The world's second-largest economy grew 6.9 percent in the three months through September from a year earlier, the slowest quarterly increase since the start of 2009. Fourth-quarter growth will be at the same 6.9 percent pace, according to economists surveyed by Bloomberg.
The International Monetary Fund last month cut its outlook for global growth this year to 3.1 percent from a July forecast of 3.3 percent. The world economy will expand 3.6 percent next year, the IMF predicted, less than the 3.8 percent it projected in July.
China's imports from all 10 of the major trade partners listed by the customs administration declined in the first 10 months. Imports from Australia, a major source of China's iron ore during the real estate boom, plunged 25.7 percent.
China's imports declined for a 12th month, matching a record losing streak from 2009. Sunday's report showed the value of imported iron ore, crude oil and coal all slumped more than 40 percent in the first 10 months of 2015 from a year earlier, highlighting lackluster demand from Chinese factories and construction sites.
Stocks rallied a fourth day, with the Shanghai Composite Index adding 1.6 percent. The benchmark for Chinese equities has rallied about 25 percent from the August low.
No Tolerance
Top leaders have signaled that they won't tolerate a sharp slowdown. President Xi Jinping said last week that average annual growth should be no less than 6.5 percent in the next five years to realize the nation's goal to double 2010 GDP and per capita income by 2020.
China still has ample ammunition, with a relatively small fiscal deficit and a central government with a light debt load. The central bank still locks up 17.5 percent of bank deposits from the biggest lenders as required reserves, even after recent reductions.
The record trade surplus helped spur a surprise increase in foreign-exchange reserves in October despite an erosion of holdings after the PBOC intervened to boost the yuan. The central bank's stockpile rose to $3.53 trillion last month from $3.51 trillion at the end of September, the PBOC said Saturday.
"The large trade surplus could offset capital outflow" and curb expectations for the yuan's depreciation, Liu Ligang, chief Greater China economist at Australia & New Zealand Banking Group Ltd. in Hong Kong, wrote in a note.
— With assistance by Xiaoqing Pi
Before it's here, it's on the Bloomberg Terminal.
LEARN MORE