Romanian Protesters Call for Elections After Government Quit
Ruling party seeks to name new PM, liberals want snap election

President starts talks with parties over government options
Tens of thousands of Romanian protesters angry over corruption called for early elections, piling pressure on ruling parties that are scrambling to re-establish a government after Prime Minister Victor Ponta quit.
As many as 70,000 demonstrators rallied in cities across the country Wednesday night, with 35,000 in Bucharest, the largest protest since the 1989 anti-Communist Revolution. They called for a change in politics after blaming corruption for the deaths of 32 people in a nightclub fire last week. President Klaus Iohannis appointed outgoing Education Minister Sorin Cimpeanu as interim premier, rejecting the candidate of the Social Democrats, the biggest party in parliament. Ponta resigned earlier Wednesday after 3 1/2 years in power, triggering the departure of his entire cabinet.
Anger over political graft has been building in Romania, with Ponta himself charged by anti-corruption prosecutors this year. His resignation failed to stem mass demonstrations as protesters emboldened by their success in forcing him out returned to the streets with bigger demands. The poll-leading opposition supports the call for a snap vote and Iohannis urged "profound changes" in the country.
Peak Crisis
"This is not the beginning of a political crisis, it's its peak," Dumitru Bortun a professor at Romania's Political Science Faculty, said by phone. "We'll be able to talk about a revolution if the protesters manage to get the change done to the end, and by the signs of it, it looks like they will."
Romania's currency, the leu, weakened less than 0.1 percent to trade at 4.4475 against the euro at 12:04 p.m. in Bucharest. It dropped 0.3 percent on Wednesday after Ponta's resignation, trimming this year's gain to 0.7 percent.
"We have been holding a cautious view on Romania compared to regional peers for this year given a worse policy mix, political uncertainty," Mai Doan, an analyst at Bank of America in London, said in a note. "As for the potential change in the government, we do not think it represents more negative or positive news at this stage, as simulative fiscal policy receives broad parliamentary support, implying that budget loosening appetite for 2016 will stay."
Iohannis's Test
Iohannis, who scored a shock victory over Ponta in a presidential election a year ago, will meet party heads Thursday. At the end of the talks, he's expected to present a plan with ways to form a new government while also trying to contain people's anger. While naming Cimpeanu as interim premier instead of outgoing Defense Minister Mircea Dusa, put forward by the Social Democrats, he also pledged to take into account protesters' claims and invite the civil society and representatives from the protesters to talks on Friday.
With the ball in his court, Iohannis is facing the toughest crisis since he took power almost a year ago after a campaign focused on fighting corruption. Since then, his popularity has been slipping as he faced growing criticism for not acting more decisively.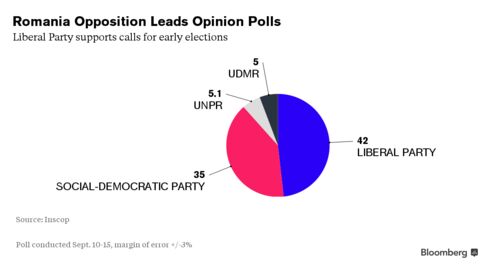 "We want real change from top to bottom and that's why they all have to go," said Adrian Ionescu, a 35-year university professor carrying a banner saying "Corruption Kills" at Wednesday night's protest in Bucharest. "Early elections or a technocratic government could be a solution, but we need new, real leaders who care more about reforming the country than about their own interests."
Early Election?
By naming an interim premier, Iohannis gave the parties as many as 45 days to find a permanent solution. After he nominates a successor, the candidate has 10 days to form a cabinet and survive a confidence vote in parliament. If two nominees fail to clear that hurdle, early elections are triggered automatically.
Social Democrat leader Liviu Dragnea rejected the opposition's calls for early elections. He said he has a nominee in mind to replace Ponta, though he wouldn't reveal the name. The party is backing Vasile Dancu, head of the IRES polling company, the B1 TV station reported, citing people it didn't identify. Dancu declined to comment when contacted by phone.
While Ponta has overseen an economy that's among the EU's fastest-growing, the opposition Liberals lead in opinion polls. The Liberals said they plan to initiate talks over a political accord for early elections, which would require the resignation of all lawmakers.
"The best option for all of us now is to let the people decide once again who should lead them," Liberal Party co-leader Vasile Blaga told reporters in Bucharest.
Before it's here, it's on the Bloomberg Terminal.
LEARN MORE