Romanian Government Quits as Nightclub Deaths Spark Protests
Premier Ponta faces trial in case by anti-graft prosecutors

Ruling coalition meeting Wednesday in wake of Ponta's exit
Romanian Prime Minister Victor Ponta, already facing a corruption trial, stepped down along with his government after thousands of people flooded the streets of Bucharest in an anti-government protest.
Ponta, 43, had been struggling to contain anger at the deaths of 32 people in a nightclub fire last week, with demonstrators Tuesday blaming corruption among officials for the incident. He said his government will stay on until a new cabinet is installed. Under Romania's constitution, President Klaus Iohannis must nominate a new premier after talks with parliamentary parties. The opposition Liberal Party called for early elections.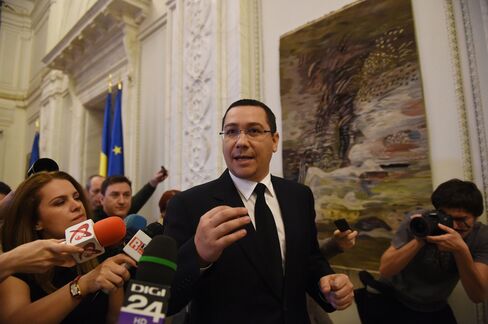 "I hope my resignation and that of the government will satisfy the protesters' expectations and that we'll be able to avoid a prolonged period of instability that could hamper all the good results we've had so far," Ponta said Wednesday in Bucharest.
Ponta, who denies charges including money laundering and complicity in a tax fraud before he took office, had already said he wouldn't seek a second term at elections next year in the European Union and NATO member. While Ponta has overseen an economy that's among the EU's fastest-growing, the corruption case has eaten away at his popularity, prompting Iohannis to repeatedly call for his exit.
Currency Declines
Romania's currency, the leu, weakened after Ponta's announcement. It was down 0.3 percent at 4.4479 against the euro at 1:48 p.m. in Bucharest, trimming this year's gain to 0.7 percent.
Liviu Dragnea, leader of Ponta's Social Democrats, said the ruling coalition will meet at 1 p.m. in Bucharest to discuss its next move.
While a caretaker government led by a technocrat can't be ruled out, the ruling party will probably find a replacement for Ponta until elections at the end of 2016, according to Andrei Taranu, deputy dean of Bucharest's Political Science University.
"Ponta's resignation was imposed by party leaders in an attempt to save the party," Taranu said by phone. "The most likely scenario going forward is that the Social Democrats will continue to rule with another prime minister until next year's elections."
Early Vote?
The Liberals said they plan to initiate talks over a political accord for early elections, which would require the resignation of all lawmakers.
"The best option for all of us now is to let the people decide once again who should lead them," Liberal Party co-leader Vasile Blaga told reporters in Bucharest. It's premature to talk about other scenarios in case the other parties don't back an early ballot, he said.
Iohannis can either start talks over a new government immediately or buy time for negotiations by allowing an interim premier to take charge for 45 days. After he nominates a successor, the candidate has 10 days to form a cabinet and clear a confidence vote in parliament. If two nominees fail to clear that hurdle, early elections are triggered automatically.
Before it's here, it's on the Bloomberg Terminal.
LEARN MORE