Goldman Warns Markets Unprepared for Fed as Treasuries Seesaw
Blankfein says data don't support the case for higher rates

U.S. government securities rise Thursday to snap two-day loss
Goldman Sachs Group Inc. says financial markets are vulnerable because nobody can agree on what the Federal Reserve will do. Treasuries fluctuated.
Benchmark Treasury 10-year notes rose in Asia, snapping a two-day loss, as traders discuss whether the Fed will raise interest rates after a meeting Thursday. Goldman Sachs Chief Executive Officer Lloyd Blankfein said U.S. economic data don't support the case for higher borrowing costs. A day earlier, Jan Hatzius, the bank's chief economist, said there's a lack of consensus about what the Fed will do, which means markets may not be prepared for a move this week.
"I wouldn't do it unless I was compelled," Blankfein said Wednesday at a breakfast in New York sponsored by the Wall Street Journal. The Fed's end of quantitative easing and higher taxes have acted as a brake on the economy and a form of tightening, he said.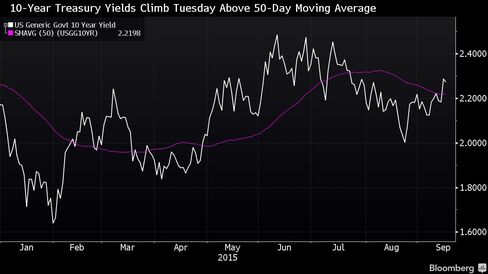 Treasury 10-year note yields fell one basis point, or 0.01 percentage point, to 2.28 percent as of 12:46 p.m. in Tokyo, based on Bloomberg Bond Trader data. The 2 percent security due in August 2025 advanced 3/32, or 94 cents per $1,000 face amount, to 97 1/2.
No Consensus
Prices paid by American households fell in August as cheaper gasoline helped keep the inflation rate below the Fed's objective, Labor Department figures showed Wednesday. The consumer-price index dropped 0.1 percent, the first decline since January, after rising 0.1 percent in July.
"It wasn't a report necessarily that would push the Fed forward," said Larry Milstein, managing director in New York of government-debt trading at R.W. Pressprich & Co. "Given the low, below-target inflation numbers, the volatility we've seen in the equity market, I think the Fed probably sits on the sidelines and waits a little longer."
Recent global stock-market turmoil has created further doubts about the Fed's willingness to raise rates. David Keeble, the New York-based head of fixed-income strategy at Credit Agricole SA, said there's no consensus on how much the Fed will consider "international developments we've seen lately, or whether they think that the domestic numbers are going to be so good that they can start to be pre-emptive."
Futures contracts indicate there's a 32 percent chance of the Fed raising rates on Thursday, according to data compiled by Bloomberg. The calculation is based on the assumption that the benchmark rate will average 0.375 percent after the first increase, versus the current target of zero to 0.25 percent.
Before it's here, it's on the Bloomberg Terminal.
LEARN MORE