Goldman's Blankfein Says Data Not Compelling for a Rate Hike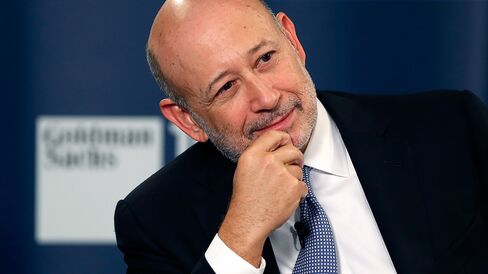 U.S. economic data don't support the case for higher interest rates, Goldman Sachs Group Inc. Chief Executive Officer Lloyd Blankfein said.
The Federal Reserve's end of quantitative easing and higher taxes have acted as a brake on the economy and a form of tightening, Blankfein said Wednesday at a breakfast in New York sponsored by the Wall Street Journal.
"I wouldn't do it unless I was compelled," said Blankfein, 61.
U.S. policy makers will conclude a two-day meeting Thursday where they're weighing restrained prices, rising volatility in financial markets and the resilient U.S. labor market. Prices paid by American households declined in August and the Fed's preferred gauge of inflation, linked to consumer spending, hasn't been above the central bank's 2 percent goal since March 2012.
Any decision to increase interest rates should be driven by economic data, Blankfein said, adding that even if policy makers raise the benchmark rate, the move won't be consequential.
Financial markets are vulnerable because of disagreement about what the Fed will do, Goldman Sachs Chief Economist Jan Hatzius said in a Bloomberg Television interview Tuesday. He predicted the central bank probably won't act until December, and might even wait until next year.
Blankfein also criticized the Chinese government's handling of the recent market decline, calling it "awfully sloppy" and "ham-handed." Restrictions on selling shares and purchases by the government probably had the opposite effect than intended by scaring away potential buyers, he said.
"If I wanted to invest in China, I wouldn't invest now," Blankfein said. "I'm not going to buy after the Chinese government may have intervened."
Before it's here, it's on the Bloomberg Terminal.
LEARN MORE