Relief Descends on U.S. Stock Market With Best Rally Since 2011
Fed's Dudley says September rate hike 'less compelling'

Durable goods orders increased the most since June 2014
Two things that have supported U.S. stocks in the past, dovish words from the Federal Reserve and improving economic data, triggered the biggest rally since 2011 and halted a plunge that erased $2.2 trillion from share values.
Technology companies led the gains with Apple Inc., Google Inc. and Intel Inc. rising at least 5.5 percent. Amazon.com Inc. surged 7.4 percent, and Netflix Inc. posted a two-day gain of 14 percent. JPMorgan Chase & Co. and Citigroup Inc. increased more than 4.8 percent. Cameron International Corp. soared 41 percent after agreeing to be bought by Schlumberger Ltd. in a $14.8 billion deal.
Gains in equities accelerated in the final hour as the Standard & Poor's 500 Index climbed 3.9 percent to 1,940.51 at 4 p.m. in New York, halting a six-day slide that was its steepest in four years. The Dow Jones Industrial Average added 619.07 points, or 4 percent, to 16,285.51. The Nasdaq Composite Index rose 4.2 percent for its strongest increase since August 2011. About 10.7 billion shares traded hands on U.S. exchanges, 55 percent above the three-month average.
"This type of short-term rally shouldn't be much surprise given recent weakness," said Chad Morganlander, a money manager at Stifel, Nicolaus & Co. in Florham Park, New Jersey, which oversees about $170 billion. "Eventually the reality that valuations have come off so much will come into play."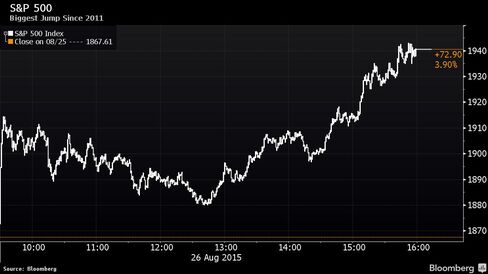 Fed's Dudley
The recent turmoil in global stock markets sparked by growth concerns has reduced expectations for the Federal Reserve to increase interest rates as soon as next month. New York Fed Bank President William Dudley said Wednesday the upheaval has reduced the case for raising rates in September, while cautioning it's important not to overreact to short-term developments.
Traders are pricing in a one-in-four chance the central bank will act at its next meeting, down from almost even odds before China's surprise currency devaluation earlier this month.
Fed policy makers remain focused on economic data, which financial markets can influence, Dudley said, through the wealth effect on U.S. households. A report today showed orders for capital goods increased in July by the most in more than a year, indicating corporate spending was finding its footing prior to the turmoil in financial markets. Orders for all durable goods -- items meant to last at least three years -- rose 2 percent, exceeding all forecasts of economists surveyed by Bloomberg.
Volatility Reigns
More than $2 trillion had been erased from American equity values since the S&P 500 started its losing streak, breaking a calm in a stock market that had gone almost four years without a 10 percent correction. The measure plunged 11 percent in the six days through Tuesday, the most since the U.S. was stripped of its AAA credit rating by S&P in August 2011, and was 1 percent away from erasing its gains since the end of 2013.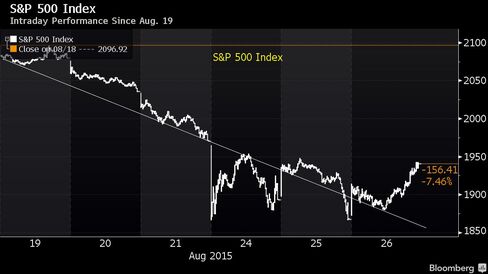 "It's definitely a positive to see markets move higher," said Tom Manning,
chief investment officer from Boston Private Wealth, which oversees about $9
billion in assets. "I don't know that we found the bottom. I'm not convinced we don't have more negative days to follow. We're not likely to go from extreme volatility to extreme calm overnight."
A rally in the first few minutes of trading Wednesday eroded by more than half throughout the morning, before an afternoon rebound took over. That was the opposite of Tuesday's action when more than 440 points on the Dow disappeared by the final hour of trading, with investors giving in to trepidation over what would happen overnight in China. The Shanghai Composite Index closed down 1.3 percent, erasing an advance of as much as 4.3 percent.
The Chicago Board Options Exchange Volatility Index slipped 16 percent Wednesday to 30.32. The measure of market turbulence known as the VIX declined for a second day after a record six-day jump sent the gauge to its highest level since October 2011.
All of the S&P 500's 10 main industries advanced at least 1.6 percent, with financial, health-care and consumer discretionary companies joining technology shares as the top performers. Tech had its strongest day since March 2009, while the health-care group rose the most in four years.
Biotechs, Monsanto
Semiconductors spearheaded the gains within the tech group, as Skyworks Solutions Inc., Nvidia Corp. and Avago Technologies Ltd. advanced more than 6.9 percent. Nvidia halted a seven-day losing streak that clipped 14 percent off its share price. Software maker Intuit Inc. added 4.3 percent to stop a four-day, 25 percent skid.
Biotechnology shares hard hit in the market's downdraft staged a recovery, with Amgen Inc. and Biogen Inc. rising at least 5.8 percent. Amgen had lost 13 percent in the previous six sessions. The Nasdaq Biotechnology Index climbed 5.1 percent, its largest jump since August 2011. Merck & Co. rose 6.4 percent, the most in 19 months, to pace gains among health-care companies.
Banks in the S&P 500 had their strongest increase in more than three years, with rising Treasury yields helping to lift sentiment on the prospects for earnings. Wells Fargo & Co. and Bank of America Corp. gained at least 4.5 percent. KeyCorp, Regions Financial Corp. and Fifth Third Bancorp led the group, up more than 5.2 percent after losing more than 9 percent in the prior three sessions.
Energy shares rebounded despite further declines in oil prices, with Cameron leading the group amid its deal with Schlumberger. Exxon Mobil Corp. jumped 5.5 percent, the most in more than six years. Chevron Corp. rose 4.4 percent, while Chesapeake Energy Corp. gained 5.1 percent.
Monsanto Co. helped power gains in the materials group, rising 8.6 percent, the most since January 2009. The company abandoned its effort to acquire Syngenta AG, the world's top maker of pesticides, after a sweetened bid valuing the Swiss company at $46.2 billion was rejected.
Before it's here, it's on the Bloomberg Terminal.
LEARN MORE