Schlumberger to Buy Cameron in $14.8 Billion Oil Services Deal
By
Acquisition seen creating one-stop shop for oil drillers

Deal not expected to be delayed by U.S. antitrust hurdles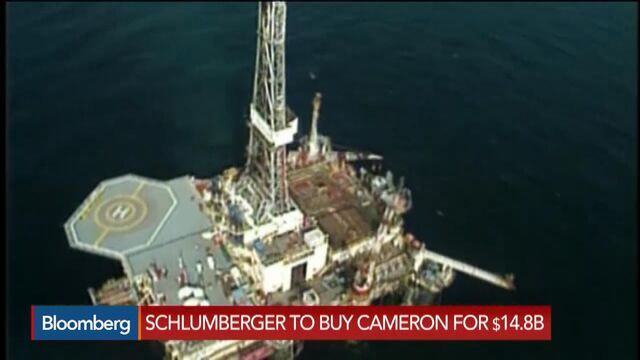 Schlumberger Ltd. agreed to buy Cameron International Corp. in a deal valued at $14.8 billion, allowing the world's largest oilfield contractor to bundle gear and services more effectively into one package.
Cameron stockholders will receive 0.716 Schlumberger shares and a cash payment of $14.44 in exchange for each Cameron share, according to a regulatory statement on Wednesday. The deal valued Cameron at $66.36 a share, a 56 percent premium based on both companies' closing share prices on Tuesday before the deal was announced.
The agreement would help Schlumberger become a one-stop shop for crude explorers, adding Cameron's valves, pumps and blowout preventers to its in-house engineering expertise. The slump in oil prices over the past year has forced oil companies to cut back on costly exploration and investment, fueling competition among service providers for a chunk of that shrinking spending.
"This is a sign that Schlumberger sees a market bottom," Matt Marietta, a Houston-based analyst at Stephens Inc. who rates the stock a buy and owns none, said today in a telephone interview. "Schlumberger didn't have to agree to it this week. They could have waited for things to worsen. It can probably bring some confidence back to energy investors that we are approaching a bottom."
Stock Reaction
Schlumberger fell 3.4 percent to $70.09 in New York, while Cameron surged 41 percent to $59.93.
The acquisition marks a shift in the oilfield service and equipment industries, which have generally stayed at arm's length from one another.
Cameron is the world's largest provider of the so-called surface wellheads, a vital set of valves that sit atop the well to control the flow of oil from the underground reservoirs. Schlumberger is looking to create even more efficiency with drilling and production by creating a single operating system that marries its well engineering and digital mapping of oil pockets with Cameron's critical gear.
"Cameron is a great hardware company, and we have all these digital capabilities and the leading downhole portfolio," Schlumberger Chief Executive Officer Paal Kibsgaard told analysts and investors today on a conference call. "The combination of all these factors is why we're very excited about the transaction."
Improving Efficiency
The deal follows the proposed merger between the world's second- and third-largest oilfield services providers Halliburton Co. and Baker Hughes Inc. in a deal valued at about $35 billion when it was announced in November.
The Cameron purchase is diversification into oilfield equipment supply rather than consolidation of a rival service company, so it is unlikely to face an antitrust challenge, Marietta said.
The companies had been partners in a joint venture they created in 2012 called OneSubsea in a long-term bid to lower the overall cost and improve performance in deepwater development. By actually owning its joint venture partner, Schlumberger will be able to work that plan more effectively, Kibsgaard said.
Track Record
Given Schlumberger's past history of buying partners, including its 2010 deal for rival Smith International Inc., this deal was expected to eventually happen, Kurt Hallead, an analyst at RBC Capital Markets, wrote today in a note to investors.
"But this is sooner than we had thought," he wrote.
The companies must see potential for gaining from the deal since they've worked so closely together, Alain Parent, an analyst at Natixis SA said by telephone. "They want to go one step further after the joint venture."
Service companies typically outsource a lot of their fabrication, while Cameron takes a lot of pride in its manufacturing, Dennis Cassidy, managing director at financial consultant AlixPartners LLP, said in a phone interview.
'Interesting Transition'
"How those philosophies mesh and how they measure productivity will be an interesting transition," Cassidy said.
The deal, which the companies hope to close by the first quarter next year, is expected to be accretive to Schlumberger earnings per share in the first year after closing, while they see a combined $900 million in synergy gains in the first two years, Schlumberger Chief Financial Officer Simon Ayat told investors and analysts today on a conference call.
Goldman Sachs is acting as financial adviser to Schlumberger, with Baker Botts LLP and Gibson Dunn & Crutcher LLP as legal counsel. For Cameron, Credit Suisse is acting as financial adviser and Cravath, Swaine & Moore LLP as legal counsel.
The $14.8 billion deal value is based on Schlumberger's closing share price on Tuesday and includes $1.1 billion in debt and $900 million in non-controlling interest, Ayat said on the call.