Russia's Terrible Bet on the Euro and Gold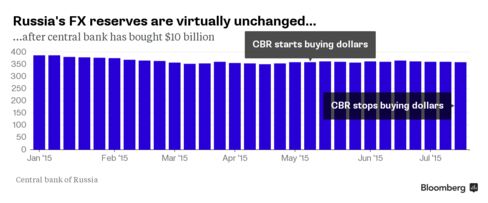 Bank of Russia Governor Elvira Nabiullina picked the wrong time to load up on gold and the euro.
The miscalculation means Russia is now down $200 million in its quest to raise international reserves, an effort it suspended Tuesday amid a rout in the ruble, after it spent about $10 billion on foreign currency since mid-May.
What the 51-year-old central banker was up against is this year's slide of 9.5 percent in the euro against the dollar and gold's 8.4 percent tumble in 2015. Both declines hurt because Russian reserves last year contained more euros than dollars for the first time since 2008 and its bullion hoard has tripled since 2005.
"It's very strange for me that no one has yet put a question to the central bank over the results of its reserves management," Alexander Losev, chief executive officer at Sputnik Asset Management in Moscow, said by e-mail.
The Bank of Russia, which estimates that it may need as many as seven years to reach its $500 billion target for reserves, has said that weekly declines were caused by "the negative effect of currency revaluations." It declined to comment about its management of reserves, citing the "blackout" period when policy makers refrain from speaking within a week of an interest rate announcement. The central bank meets on Friday in Moscow to review borrowing costs.
The central bank's purchases helped cap the ruble's rebound at a time when President Vladimir Putin advocated a weaker currency to help the nation's businesses compete on the global market.
Reserves Shrink
Ravaged by a crash in oil prices and almost $90 billion in interventions to rescue the ruble last year, Russia's reserves were at $358.3 billion on July 24, down almost 30 percent from last year's peak. The central bank shifted to a free-floating exchange rate ahead of schedule in November as Putin said the country won't "mindlessly burn up" reserves to defend its currency.
More pain could be pending if the U.S. Federal Reserve carries through on its intention to raise rates this year, a shift investors bet will push Europe's single currency further toward parity with the greenback.
The dollar is poised for its biggest monthly gain since March as the Fed on Wednesday went a step closer to increasing borrowing costs this year, with policy makers turning more bullish on employment compared with their meeting in June. The Bloomberg Dollar Spot Index, which tracks the currency versus 10 of its major peers, has advanced 2.6 percent this month. The dollar gained 0.3 percent to $1.0951 versus the euro at 3:20 p.m. in Moscow.
Read this next:
If the European currency weakens to parity with the dollar, "then we'll end up like Alice in 'Through the Looking-Glass:' we'll have to run even faster just to keep in the same place," Losev said.
Before it's here, it's on the Bloomberg Terminal.
LEARN MORE