Russia Ends Foreign Currency Purchases in Boost for Easing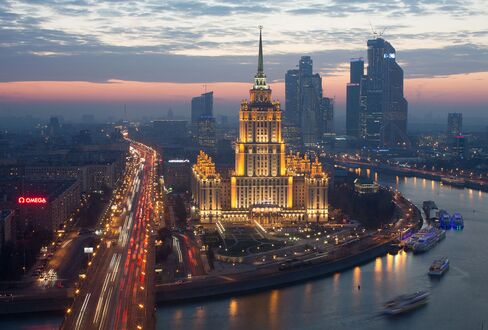 Russia's central bank halted purchases of foreign currency to replenish the country's international reserves, a move that may lay the groundwork for a fifth interest-rate cut this year at a meeting on Friday.
The operations were suspended on July 28 as a result of "growth in volatility on the domestic currency market," the regulator said in a statement on its website Wednesday. It said currency purchases were reduced to $160 million on Monday from $200 million a day last week. The ruble appreciated as much as 1.4 percent after the announcement, before paring gains.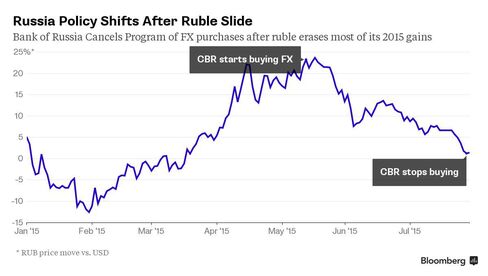 The unexpected move sets the stage for policy makers to extend their easing cycle after a weaker ruble complicated lowering borrowing costs by threatening to reignite inflation. The interventions, compounded by a slump in oil prices, have sent the Russian currency tumbling more than 17 percent since the central bank began its push to rebuild reserves in mid-May, the world's worst performance in that period.
"The central bank has some concerns that the weaker currency may jeopardize its inflation objective," said Ivan Tchakarov, an economist at Citigroup Inc. in Moscow who predicts a half-point rate decrease. "With this decision in place, the central bank will feel much more comfortable cutting on Friday."
Rate Outlook
The central bank will cut their key rate by a half point to 11 percent at their July 31 meeting, according to 25 of 34 forecasts in a Bloomberg survey. It's already lowered the benchmark by a cumulative 5.5 percentage points this year following an emergency increase in December.
Looser policy is needed to combat Russia's first recession in six years amid a slump in oil prices and U.S. and European sanctions over Russia's support for rebels in Ukraine. Last year's ruble collapse, the worst since 1998, spurred inflation to the fastest in 13 years and devastated consumer demand, a mainstay of Russia's economic recovery since the 2008-2009 crisis.
The ruble traded 0.9 percent stronger at 59.4660 against the dollar at 1:14 p.m. in Moscow. Derivatives traders extended their bets on a decline in borrowing costs after the announcement. Forward-rate agreements are signaling 30 basis points of decreases in the next three months, up from 13 basis points on Tuesday.
Minimizing Impact
"The Bank of Russia has repeatedly stated that it will minimize the impact of operations to replenish international reserves on the currency market, quickly adjusting the volume of purchases," the central bank said in an e-mailed statement.
The central bank, which allowed the ruble to trade freely last year, has bought about $10 billion since resuming currency purchases on May 13.
The shift has prompted criticism from banks and officials as going against the regulator's free-float policy, in which the market sets the exchange rate. The Bank of Russia has defended the interventions as compatible with its free float.
The ruble's performance this week may determine what action the central bank will take, according to Liza Ermolenko, an analyst at London-based Capital Economics Ltd., which predicts a decrease of 50 basis points by the central bank.
"There is a pretty high possibility that they decide not to cut this time just in order not to destabilize the situation further," she said by phone. "Of course, it depends on what happens to the ruble today and tomorrow, it also depends on what happens to oil prices."
Read this next:
Before it's here, it's on the Bloomberg Terminal.
LEARN MORE