The Czech Economy Is Surging, So Why Are Wages Stagnant?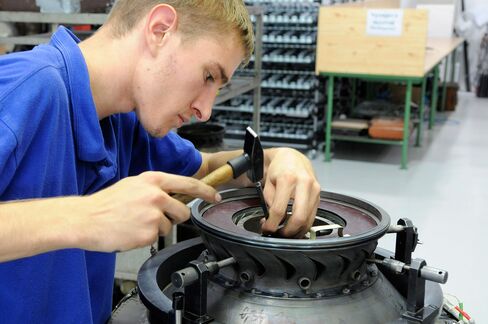 Czechs are getting short-changed.
An economic resurgence that's outshining western Europe hasn't brought a proportional uptick in salaries. Eleven years after the nation joined the European Union, average wages still trail those of a German street sweeper.
That's a headache for a central bank intent on boosting inflation to 2 percent. Policy makers have been weakening the local currency to make imports costlier and need incomes to grow to help revive consumer prices. Without meaningful pay rises, they're forced to extend their cap on koruna gains.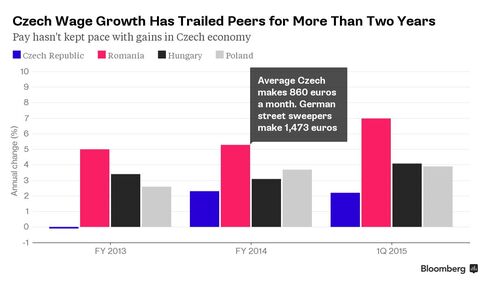 "We've been negatively surprised by wage growth for a long time," central bank Governor Miroslav Singer said after a June 25 policy meeting. Policy makers reaffirmed the Swiss-style currency ceiling of about 27 koruna to one euro won't be scrapped before the second half of 2016.
While the Czech economy surged an annual 4 percent in the first quarter, wages rose at just over half that pace to reach 25,306 koruna ($1,030) a month. Salary growth has trailed peers from Poland to Hungary for years. That's not much good to Singer with inflation still less than half his goal.
Can pay checks be dragged higher? The Confederation of Trade Unions thinks so. It's calling a rally for September to demand a 5 percent salaries increase next year to bring living standards closer to richer EU states.
"The economy is growing and company profits are increasing," confederation head Josef Stredula said last month. "It's time we see it in wages."
Before it's here, it's on the Bloomberg Terminal.
LEARN MORE